Warwick to Mark Appalachian Trail Community Day
Saturday, June 30, 2012 – 7:00am – 10:00pm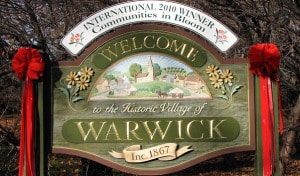 Warwick, NY, has been designated as an official Appalachian Trail Community. Mark your calendars all-day June 30 and join the fun! Click here to see area map.
Breakfast
8 guided hikes in the area; see hike descriptions for start times (all hikes will end by or start after the dedication ceremony)
10:00am: Meet and Greet Thru-Hiking Roundtable: learn about thru-hiking the AT, meet some of this year's thru-hikers, AT ridge runners , and ATC and NPS officials. Location, Continental Rd.
10:00am: Bellvale Farm Tour:

After tour hike up Kane Road to Bellvale Creamery for dedication ceremony .

11:30am: Dedication Ceremony on Bellvale Mountain
Townwide carnival
Dinner specials at local restaurants
Evening concerts at the Thomas Morahan Waterfront Park in the Village of Greenwood Lake and at the Railroad Green in the Village of Warwick.
Pre-registration for breakfast and hikes is requested to help us plan. But if you wake up and decide to come at the last minute, please do! Click here to register.
A Note about Parking & Shuttles: There will be no on-site parking for events on Bellvale Mountain (Mt.Peter), including the Designation Ceremony, Hike No.3 (morning), and street fair. Designated parking areas will be the CVS at 123 Windermere Ave in Greenwood Lake and the Winslow Riding Center at 1433 Route 17A in Warwick. Buses will run between 9am and 1:30pm. Parking will be available on the mountain after 1:30pm.
Hikes for All Levels, from Novice to Advanced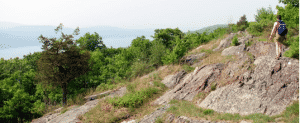 Hike 1: State Line Trail to Mt. Pete, Strenuous, start time 8am
The niche filled by this hike is that it's for fast-paced, advanced level hikers. In contrast to the other hikes (mostly easy, kid-friendly or moderate) this is reserved for hikers with strong legs and good cardiovascular fitness – we will average close to 3 mph which is not easy on the State Line Trail and that stretch of the Appalachian Trail. Hike will meet at 8:00am at the State Line Trailhead. Hikers are urged to carpool as parking is limited. Hikers will arrive at Mt. Peter in time for the AT Community Designation Ceremony. Led by Don Weise, NY-NJ Trail Conference. Strenuous hike of about 8 miles.
Hike 2: Village Vista Trail to Mt. Peter, Moderate to Strenuous, start time 9:15am A favorite route of thru-hikers coming down into the Village of Greenwood Lake for supplies or a zero-day. A little less than a mile to great views of the village and lake from above, hike continues another two miles to Mt. Peter in time for the AT Community Designation Ceremony. This hike is moderate to strenuous (steep climb) and led by Greenwood Lake Village Trustee Jesse Dwyer. Leaves at 9:15 from the trailhead at Lion's Field in Greenwood Lake allowing some time to enjoy a pancake breakfast before the hike.
Hike 3: Mt. Peter to Greenwood Lake Vistas, Moderate, two start times: 9:15am and 1:30pmThe favorite family hike of local hikers and a daily routine for some, this relatively level hike (several steep climbs) is full of interesting features on the way out to beautiful views of the lake below and mountains to the east. In the 1960's the southern end of Bellvale Mountain was being considered for the location of the NY metropolitan area's third major airport. The plans called for leveling the mountain with controlled nuclear blasts. Luckily, in this case, common sense reigned. How different it would be now had this plan been carried out. Total length of hike ~5 miles; moderate difficulty.
Hike 4: Wawayanda Mountain (aka Stairway to Heaven), Moderately Strenuous, 1:30pm
When first approaching Wawayanda Mountain and seeing it rise up above you, you may wonder why in the world did they put the Appalachian Trail here and think you are in for a very strenuous hike, but thanks to good trail design by the NY-NJ Trail Conference, the climb up is easier than expected. Wawayanda is an old Indian word meaning "winding waters", a very good description of the various waterways throughout the valley. The rocks on and around Wawayanda Mountain are some of the oldest in the world, over a billion years old, and formed during the Grenville Orogeny. The vista from the top is expansive, overlooking the entire Vernon-Pochuck-Warwick Valley, with views that extend from Mt. Tammany in the Delaware Water Gap to High Point to the Catskills. Along the hike, we will take note of several microhabitats/microclimates and make some mention of the most basic geology-hydrology and enjoy some time looking at the views (bring binoculars). Hike led by Gene Giordano, NY-NJ Trail Conference, and Edward Sattler and Jason Touw, Warwick Valley High School Environmental Science faculty.
Hike 5: Pochuck Boardwalk, Vernon, NJ, Easy, start time 1:30pm
This approximate 2-mile hike is today's easiest hike. Join Larry Wheelock of the NY-NJ Trail Conference to learn about this amazing section of the Appalachian Trail, a project spanning more than 20 years to complete. On this mile-long section of the Appalachian Trail between Pochuck and Wawayanda Mountains you can immerse yourself in the life of a freshwater marsh without getting wet. From the safety of a mile-long, sunny boardwalk, you can see marsh critters like turtles and water snakes and a plethora of wild flowers and cattails. The trail offers an expansive view of the valley. The boardwalk traverses the 3000-foot-wide floodplain of 60-foot wide (at times) Pochuck Creek. The National Park Service classifies the floodplain as an "Exceptional Resource Value Wetland" with its tributaries and quagmire. When the creek floods, so does the floodplain, forming an image of the ancient glacial lake it once was. A 110-foot-long wooden suspension bridge crosses the creek
Hike 6: Barrett Rd. to Wawayanda Mountain, Moderately strenuous, start time 1:30pm
Led by Alan Breach, NY-NJ Trail Conference- a moderate to difficult hike,. Beginning with a tour of High Breeze Farm, this section descends into a beautiful gorge and then climbs the back of Wawayanda Mountain to scenic views of the Warwick Valley.
Hike 7: Fitzgerald Falls Rock Stairway Project, Easy, start time 1:30pm
Visit the NY-NJ Trail Conference's Jolly Rovers Crew as they work to improve the climb up the side of the falls and the stream crossing. See how large rocks are moved into place ( "flying rocks") and learn how rocks are used to improve the trail. This will be a two-year work project just begun in April of 2012. Hike led by Gail Neffinger, Trail Conference volunteer. This is a short and easy hike.
Hike 8: Wallkill River National Wildlife Refuge, Easy, start time 1:30pmHike led by Appalachian Mountain Club Supervisor Jill Arbuckle, who maintains the Appalachian Trail through the Refuge. This is an easy hike.
Hike 9: Bellvale Creamery to Wildcat Shelter, Moderate, start time 5:00pm
Dog-friendly Trail Angel Hike, from Bellvale Creamery Hike to Wildcat shelter by about 6pm, where we meet and bring water, beverages and snacks to the thru-hikers that will be congregating and camping there. Hikers should bring snacks and food to give to thru-hikers.Then depart at 7pm and hike back to Bellvale Creamery, where we congregate around 8:15 for cones of ice cream. 5 miles in 3 hours. Led by Aaron Schoenberg, North Jersey/Ramapo ADK
Click here to register for breakfast and/or hikes. (Not required, but it will help the planners.)
NOTE: This event is part of the New York AT's celebratory weekend. On the following day (Sunday, July 1, 2012), a new 1600-foot boardwalk and bridge over the Swamp River in Pawling will be officially opened.
Leader/Presenter:
Gene Giordano, trails@genegiordano.com
Sponsor:
Appalachian Trail Conservancy & NY-NJ Trail Conference