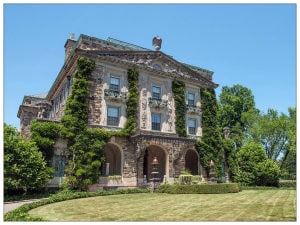 One of the reasons we love the Hudson Valley is the rich history that you can see almost anywhere you travel. Our own beautifully restored Colonial inn was built when Thomas Jefferson was president. We love to share the history of the Caldwell family and our inn so make sure to ask the next time we are in the parlor together! Back to the reason for this blog—we want to share with you a fantastic historical place to visit the next time you are in town with us. It is the beautiful Kykuit Rockefeller Estate in Sleepy Hollow, NY.
Doesn't Sleepy Hollow just sound like a place you want to check out? Kykuit is a distinguished landmark in the Hudson Valley. It's name means "lookout" and this piece of paradise is perched on a high point overlooking the Hudson River with an incredible view of the New York City skyline. Four generations of the Rockefeller family called this place home and it is now a historic site of the National Trust for Historic Preservation.
For 100 years this beautiful site has been meticulously maintained and the architecture, gardens, and scenery are just breathtaking. The best part about going here is that you can take a behind the scenes tour of the estate! You will get to explore the six story stone house, the expansive gardens full of 20th century sculptures, underground art galleries, and the Coach Barn that is full of collectible automobiles and horse drawn carriages. Through it all you will learn the fascinating history of the Rockefeller family. Visit the website for tour dates, admission pricing and other information about your visit.
Sleepy Hollow is under an hour away from our bed and breakfast and we can tell you the best shopping and dining spots along the way to make your day out complete. Your private suite will be waiting for your return and then of course, you still have more to look forward to as you will be served a gourmet breakfast prepared by owner Dena Finneran the next morning! We've got our own piece of paradise here in the Hudson Valley so come for a summer getaway before the season is over.