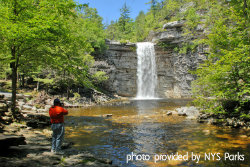 When you are looking for great things to do in the Hudson Valley, we've got you covered. Our bed and breakfast in Salisbury Mills, NY is close to everything you need to make the perfect vacation—museums, shopping, theatre, dining, sports, and of course the beautiful great outdoors! Getting outside is not only good for the soul but there are some breathtaking places to visit that offer views of the Valley that you just won't find anywhere else. Minnewaska State Park Preserve is a local favorite and only a scenic 45-minute drive away from our inn and an hour and a half drive from New York City.
Located on the Shawangunk Ridge, the Minnewaska State Park Preserve offers a host of activities for the adventurer to the casual explorer who just wants to bond with nature. You will find beautiful trails that wind through the rocky, rugged terrain, near babbling streams and surrounded by hardwood forests. There are cliffs and ledges, three sky lakes, and numerous waterfalls to be discovered.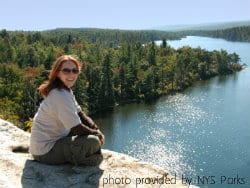 There are 35 miles of footpaths and 35 miles of carriage roads. Visitors can walk, bike, hike, rock climb, scuba dive, and enjoy swimming, boating, and horseback riding in the area. Please note that if you are going biking, helmets are required for all users. There are a few fees to be aware of depending on the activity you will be enjoying. There is a $10 entry fee per vehicle and permits/passes are required for boating, horseback riding, rock climbing and scuba diving. You can find a detailed map of the preserve here. The park opens at 9am every day of the year and closing hours are posted at the entrance as they vary with the seasons.
This is a great place to spend the day during your time in the Hudson Valley and we can pack a delicious picnic lunch for you to take on your way! Book an overnight or weekend getaway to truly enjoy the last precious days of summer.