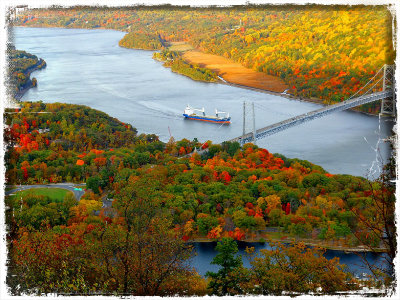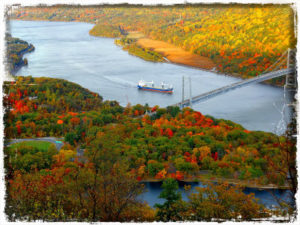 Why is fall one of our favorite seasons? Bright sunshine, mild temperatures, football, Thanksgiving, apple picking and cider donuts, and quite simply the fact that the Hudson Valley explodes into a spectacular landscape of orange, red, and golden hues. The area becomes a leaf lover's paradise and we want to encourage you to make a trip our way and reconnect with nature. Sometimes it is just necessary to escape the rat race, take a drive, spend a night or two (or more!) in a charming bed and breakfast, and recharge. Today we are going to give you some fall foliage hot spots to check out for your next fall color tour outing.
The truth is visitors come from near and far to take in the beauty of the Hudson Valley during the fall season. Usually starting in mid-September, the colors begin to pop and really any scenic road will take you past picture worthy views. Here are some easy to get to places that are sure to give you some fantastic views:
The world's longest pedestrian bridge is located not far from our inn—the Walkway Over the Hudson. At 212 feet high and 1.28 miles long, it's a nice place to find sweeping views of the valley and the Hudson River.
The Mohonk Preserve is a 7,500-acre section of land on the Shawangunk Ridge. You should check out Sky Top, a popular 1-mile path that leads up to an enormous stone tower where some say you can see six states on a clear day.
The Storm King Art Center, just minutes from our inn, is the country's largest sculpture park and the fall season creates a beautiful backdrop for the works of art.
The United States Military Academy West Point offers tours from the Visitor Center that take you to high points on the property where you can see breathtaking views of the Hudson River.
Take the Scenic Byway from Elks-Brox Park with a right onto Route 97. You'll get to Hawk's Nest, a twisty stretch of road that hugs the mountain. It is a fun route to drive that has been featured in several car commercials!
Follow Route 17K to the Hudson River at Newburgh and take in a narrated cruise to see the fall colors from a whole different perspective.
Along your way, don't forget to pick up some edible souvenirs like freshly picked apples, pumpkins, doughnuts, locally made cheeses, or some Hudson Valley wine. We would love to host you for a fall getaway so book online today or contact us anytime for further information about the area or our bed and breakfast!