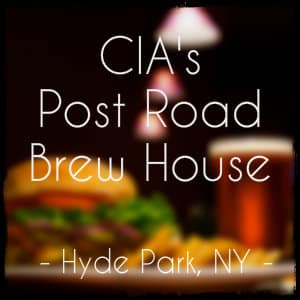 For those who call the Hudson Valley home and for guests who call our bed and breakfast their "home away from home," the Culinary Institute of America's group of restaurants hold a high standing in this community. It is a group of restaurants that truly offer a unique variety of culinary experiences. From a delicious bakery café to a latin gastro bar to authentic Italian, they are restaurants that are hands down worth checking out when visiting the area. A new one that has come on the scene just a week ago is the CIA's Post Road Brew House. It won't be around for long so this one is a must see.
The Post Road Brew House is a casual gathering spot located inside the General Foods Nutrition Center in Hyde Park, NY. Whether you are looking for a fun spot to meet up with friends or coworkers or need a quick bite for lunch as you are touring around, this place has the perfect atmosphere and something for everyone. This new place is what they call a "pop-up" experience so it will only be available to the public until June 15, 2017 for dinner and from March 24 – May 4, 2017 for lunch. You can reserve directly online too!
Their menu has some really creative and delicious options that your run of the mill restaurant most likely will not have. Popular options include Crisp Pork Belly appetizer, Post Road Burger, Classic Cassoulet, and Brick Cooked Half Chicken. The Hudson Valley Apple Crisp with Maple Ice Cream and Bourbon dessert sounds simply divine! They've also got some fantastic coffees, teas, and after dinner drinks plus a great variety of CIA-brewed beer on tap.
When you go you park in the CIA's parking deck, which also has a great 30,000 square foot terrace to take in some amazing views of the Hudson River. Come on over and join us for some spring fun—check out this brew house, do some shopping, go exploring…we have something for everyone plus the perfect accommodations to make your stay memorable. Book online today!