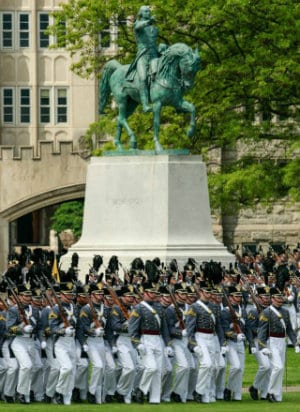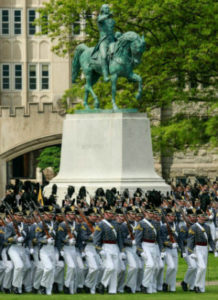 The very prestigious West Point, also known as the United States Military Academy is 50 miles north of New York City and just 20 minutes down the road from our bed and breakfast. While an educational facility might not be on your top list of places to visit when you come to the Hudson Valley, let us assure you this place definitely deserves a spot in our series of top 5 attractions to check out. Keep reading to find out why!
This amazing academy has roots that date all the way back to 1801 when President Thomas Jefferson put plans in motion to establish this military academy. Coincidentally, both West Point and the Caldwell House opened in 1803 – 225 years ago! Most of the buildings on the campus are made of gray and black granite and have what is called a "Romanesque architecture." It is a medieval European style boasting decorative arches, columns and pillars and large towers. Approximately 1,300 cadets enter the Academy each year and most graduates are commissioned as second lieutenants in the Army.
West Point has become a very popular tourist destination. You can take a guided bus tour of the grounds and visit the impressive visitor's center and Army West Point Gift Shop. One of the reasons we have included the academy in our list of top attractions is for the West Point Museum—the oldest museum in the United States Army. You'll find over 60,000 Army historical artifacts. There is a fascinating weapons exhibit showcasing everything from guns to swords to cannons and bombshell casings. It is the perfect place to learn about our country's military history. As the museum website describes, "The holdings span the history of the United States Military Academy at West Point, the military history of the United States Army, the history of warfare and the profession of arms." Admission is free and it really is an exciting place to visit even if you may not call yourself a true history buff.
We would love to know what you specifically enjoyed if you have visited West Point before. Leave a comment below! If you are interested in what else our gorgeous area has to offer call us—we can help you plan an amazing Hudson Valley getaway. If you are looking for something extra unique to do, you simply must check out our Flexibility in Flight package that offers guests an aerial silks class experience. Book online today or contact us anytime.