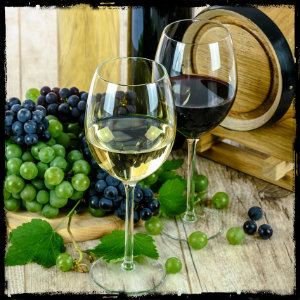 In 1810, Beethoven composed Für Elise, Chile declared independence from Spain, and the first US opera, "Converse" premiered in New York. It was also the year that a man named Jean Jaques, who had emigrated from France, bought some land in the Hudson Valley and started planting some grapes. This is the start of what would become The Brotherhood Winery, the first on our list of top five attractions near our bed and breakfast in the lower Hudson Valley.
To start this New Year off, we thought it would be fun to give you some of our favorites – the places we love to go and that our past guests have really enjoyed. We are going to start off with our top five attractions, then move on to our top five local towns, and finish off with our top five restaurants. As mentioned above, the first to hit our list of top five attractions is The Brotherhood Winery, just five minutes away from us.
This incredible winery is acknowledged to be the oldest operating winery in the United States. Mr. Jaques dug the first underground cellars in 1839 and then fermented his first wine. Some years later the operation changed hands to some New York City wine merchants and then was again sold in 1921 to Louis Farrell. The Farrell's were the owners who started offering tours of the winery, knowing that the public would be fascinated to see the picturesque site and learn about the history and cellars. These same cellars are still in use today and even through several changes of hands, this winery has not lost its commitment and passion to creating award-winning wine.
There are events throughout the year but you can always stop in and enjoy a tasting and tour. From January through March, tours and tastings are available Friday through Sunday from 11 am – 5 pm. When it comes to tastings you can choose from a varietal, traditional or world flight. A tasting flight is $7 and you get to keep the glass. A tasting with a tour is $10 and a single tour pass is just $6. They have a delicious restaurant, the Vinum Café, which we will feature in our top restaurants series.
Brotherhood Winery is one of our favorite local wineries and we highly encourage our guests to check it out. The tours are informative, the wine impressive and just great place for an outing no matter the time of year. If you go, we'd love your feedback on which wine was your group's favorite. Leave a comment below!