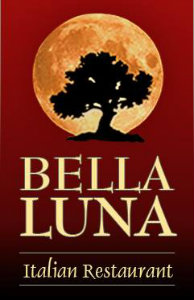 Those who eat well eat Italian! Did you know that Italian food began after the fall of the Roman Empire when cities began to separate and each started forming their own traditions? For those of us that crave a delicious, authentic Italian meal, we are so thankful for those that created this cultural food! Thankfully, right here near our bed and breakfast, we can get amazing Italian food at a wonderful restaurant called Bella Luna.
You know that "feel" you get when you walk into an authentic Italian restaurant? It's almost like you walk into a place and immediately feel like part of the family. That's what you'll get at Bella Luna – a favorite of ours just 10 minutes from the Caldwell House that has been serving amazing food going on 14 years. The ambiance is casual and romantic with décor that is old traditional Tuscan. We had the opportunity to ask a few questions of Diane Lenti from Bella Luna, and she shared some facts and inside scoop that we'd love to pass on.
1) Does your restaurant have a specialty?
Yes! Our homemade sauces and delicious homemade Tiramisu.
2) What is your favorite dish?
The Veal Sorrentina is amazing.
3) What are diner's favorites?
The top two are the Seafood Bella Luna and the Bow Tie Susanna
4) What kind of service can guests expect?
Our staff is trained to treat our customers like family.
5) Do you have any current specials on your menu?
Every Tuesday and Friday we offer new specials on our menu
6) Are you able to accommodate special diet requests?
Our dishes are made to order and can be adjusted to the customer's dietary needs. We also have gluten free pasta and pizza.
7) Do you host events?
We host private events for families and corporations such as meetings, bridal showers, and baby showers.
Whether you are in the mood for a Friday night antipasto paired with a bottle of wine, an "Old World" style thin crust pizza from the brick oven, or a full family meal you won't be disappointed. The food is top notch here and the service cannot be beaten. Diane encourages making reservations ahead of time, particularly for Friday and Saturday evenings. One vacation to the Hudson Valley often turns into repeat visits as we have experienced seeing many guests return year after year. We really enjoy helping our guests find their own favorites each time they visit us. We are sure Bella Luna will be one that makes your list as it has ours. Buon Appetito!