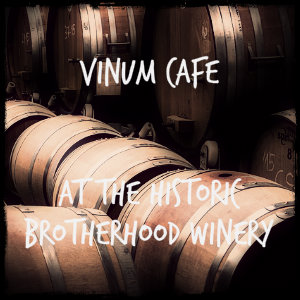 We are back today with our next choice for favorite restaurant in the lower Hudson Valley – the elegant and very delicious Vinum Café. If you have some time, we encourage you to read the previous posts in our "Top Five Favorites" series where we have given our picks for favorite attractions and local towns near our bed and breakfast.
The Vinum Café is located right on site at the Brotherhood Winery in Washingtonville, NY. Brotherhood Winery is America's oldest winery with its first commercial vintage produced in 1839. The café is located on the ground floor of the building, which has been renovated to reveal the original brick, giving the fine dining restaurant a historic, rustic touch.
The café is a casual dining room near the bar area where you can enjoy a cheese platter with a glass of wine or simply a hot Cappuccino with dessert before heading out on the town. The restaurant, called the Copper Room, is a more intimate, elegant dining area with a warm and inviting ambiance. The menu has some wonderful French Cuisine options and a favorite are their classic hand crafted Martinis.
Enjoy wine, whiskey and tapas during cocktail hour at the café. It's from 5-8pm by reservation only. They have stocked their bar with over 100 rare and high rated bourbon and single malt whiskies. You can also choose a favorite from their whisky flights and enjoy it all with some delicious food from their tapas and small plates menu. This isn't a spot where you will be offered ten kinds of chicken wings. Their tapas menu includes choices like Bourbon Meat Ball with Rustic Artisan Bread, Smoked Daddy Brisket Sandwich, Saffron Steamed Mussels, Goat Cheese and Pear Salad, and Black Truffle French Fries.
If you are going to be in town this weekend, they have an amazing Jazz Brunch this Sunday from noon – 4pm. You'll want to make reservations if you plan to go. We have many guests already planning their summer vacations to the Hudson Valley and this café has a wonderful large outdoor patio so you'll definitely want to visit when the warm weather arrives. This area has so much to offer and is the perfect place for a midweek, weekend or full week getaway! Book with us online today or contact us anytime for further information about our bed and breakfast or the beautiful area we call home.