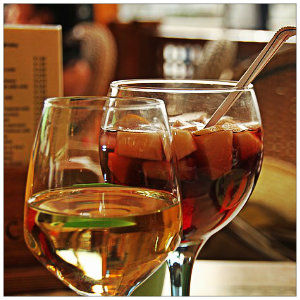 Summer is the best time to get your festival fix, especially here in the Hudson Valley! There are so many going on, it can be hard to pick a favorite but don't worry, we've got you covered! Always make it a point to check in here on our blog as we chat about our top favorite things to do in the area, festivals included. Not far from us here in Salisbury Mills, NY is a fantastic winery called the Benmarl Winery. They are hosting their 12thannual Sangria Festival and if you love a great wine or sangria, you'll want to be here!
The Benmarl Winery is located in Marlboro, NY, which is only about a half-hour from our bed and breakfast. This gorgeous winery overlooks the Hudson river and lays claim as the oldest vineyard in America! It is a 37-acre estate that has been consistently making premier wines in our region as they are committed to making small batch wines that capture the essence from where they are sourced. The annual sangria festival has become a favorite for locals and visitors alike and it is coming up July 14-15, 2018.
Admission is $20 online or $25 at the door and non-Drinkers and children 13 and up are $10. Your ticket includes tastings of their six homemade fresh fruit sangria's and a tasting of their bottled White Sangria and their famous bottled Red Sangria. You will also be able to enjoy vineyard and cellar tours, live music, and flamenco dancing lessons, and will be given a souvenir wine glass to take home. There will also be a variety of food to purchase during the festival as well.
This is not the only winery nearby – we can help you plan an amazing winery tour seeing some of the best vineyards along the Shawangunk Wine Trail. To come for this event or any other summer getaway, book online today or contact us for more information! We'd love to meet you and show you around the Hudson Valley!