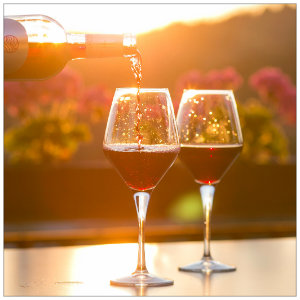 We are back again this week to say hello to all of our wonderful friends, guests and future guests! If you are new to this blog, be sure to keep coming back weekly as we share on our vast knowledge of the Hudson Valley and all that there is to see and do here. We love the fact that guests of our B&B can come to escape and relax or choose to experience a new adventure every day. From dining to shopping to hiking to wineries, we've got it all. Speaking about wine, we've got an abundance of fantastic vineyards all throughout the Valley. Just 30 minutes north of us though, in the area of Marlboro, NY is a little goldmine of six wonderful wineries all within minutes of each other.
The quaint area of Marlboro, NY is straight north of our bed and breakfast following Rt 9. Marlboro is considered a hamlet within Ulster County that offers a bit of country living with great history and beautiful scenery. There is a lot of agriculture in this area that not brings a ton of fresh produce stands for visitors but several great wineries to visit. These wineries each have their own unique qualities and many offer all kinds of events and festivals throughout the year. We encourage you to pick your favorites and enjoy your own winery tour over the course of a day or two. We'd love to know your favorites so we can share your experience with other guests so be sure to keep us in the loop if you make your way over to these wineries during your stay with us!
Marlboro Wineries
Weed Orchards & Winery
43 Mount Zion Road, Marlboro, NY
845-236-2684
Stoutridge Winery & Distillery
10 Ann Kaley Lane, Marlboro, NY
845-239-7620
Glorie Farm Winery
40 Mountain Road, Marlboro, NY
845-236-3265
Kedem Winery
1519 Route 9W, Marlboro, NY
845-236-3651
Brunel & Rafael Winery
180 South Street, Marlboro, NY
845-306-5450
Benmarl Winery
156 Highland Avenue, Marlboro, NY
845-236-4265
Celebrate the end of summer with a memorable stay in the Hudson Valley. Let us know what kind of getaway you are looking for and we can help you plan it all! Book online today or contact us anytime for further information.