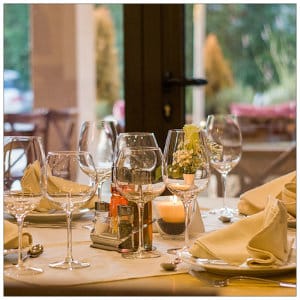 Going out to eat and trying new places is one of the best ways to experience the culture of an area. The Hudson Valley is bursting at the seams with amazing dining options—it can be hard to decide where to go! We are lucky to have some fantastic restaurants within a 30-minute radius around our bed and breakfast and today we just want to highlight three newer ones that have come on the scene. Each brings a different atmosphere and type of dining experience but all worth checking out the next time you are staying at the Caldwell House.
Liberty Street Bistro – Inventive food and sophisticated wine and cocktails are trademarks of this new restaurant, located in Newburgh, NY, just 20 minutes from our inn. This is a more "haute cuisine" type of restaurant that offers fine diners a delicious menu centered around French cooking techniques. In 2017, Liberty Street Bistro was voted "Best New Restaurant" by the readers of Hudson Valley Magazine. They serve a 2, 3, or 4-course with wine pairing dinner option starting at 5, a lunch menu from 12-3 Wednesday through Saturday, and a delicious Sunday brunch. Every Monday they also serve a new pasta special. Their food is elegant, creative and the atmosphere perfect for a special dining experience.
La Charla – This delicious restaurant is located in New Paltz, just 30 minutes from our bed and breakfast. The buzz around town didn't take long after this Mexican restaurant opened in October of 2017. They serve Authentic Oaxacan food, which brings a lot of spices and interesting culinary experiences. Their margarita made with fresh lime juice and organic mezcal is the perfect start to your meal and the house guacamole made fresh at your table is perfect for sharing with friends. Favorites on the menu include the Enchiladas Coloraditas, the Chamorro Chileajo, and of course the homemade Churros with cinnamon sugar and chocolate sauce for dessert. If you love authentic Mexican food, this is a must try restaurant!
Heritage Food and Drink – This great restaurant opened August 2017 and is just 30 minutes away from us in Wappingers Falls, NY. This place offers southern inspired farm to table food in a sophisticated modern space. You'll find delicious gastropub fare with local beers and cocktails to pair. They offer a weekly prix fixe menu, a weekend brunch with $1 east coast oysters, and happy hour with $5 drinks and an array of delicious small plates. They want you to come with family and friends and relax with great food and drinks in a fun and inviting atmosphere.
If you go to any one of these, let us know about your experience so we can help guide future guests to the best reviewed places in town. We would love to be your hosts during your next Hudson Valley vacation—book online today and contact us anytime for further information.