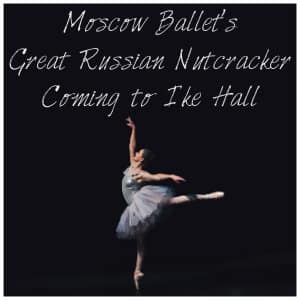 It doesn't take long for the seasons to change at the local stores, don't you agree? One day you can buy fresh flowers and gardening supplies and the next it seems the Halloween candy and pumpkins are out followed quickly by the Christmas décor. It's hard to keep up! I guess they just want to stay ahead for those of us that are planners and like to think ahead! It's good to think ahead when it comes to holiday activities and events. There is so much happening around the Hudson Valley and near our inn in Salisbury Mills, NY, making us the perfect choice for a fall or holiday getaway. Just a few minutes away is the world-renown West Point Military Academy and this year their performing arts center is bringing in the Moscow Ballet's Great Russian Nutcracker.
The Moscow Ballet's Great Russian Nutcracker ~ Dove of Peace Tour is a sight to behold. This incredible performance presents world class artists, hand-painted sets and an incredible addition of a 2-dancer Dove of Peace that has a 20-foot wingspan. Many of you have likely heard about the Nutcracker show but did you know that it first premiered in 1892 at the Mariinsky Theater in St. Petersburg? Created by Peter Tchaikovsky, the classic performance uses a minimum of 150 costumes. It was not well-received by the public and critics at its premiere and Tchaikovsky died less than a year later so he never knew the international success the ballet would later become.
This stunning and entertaining show would be a wonderful event to attend to kick off your holiday season. Here at Ike Hall at West Point it will be playing just one time on Sunday, November 18th, 2018 at 5pm. The theatre, located right on the Hudson River, is just 20 minutes from our bed and breakfast. We can point you to a number of fantastic restaurants nearby to take in a late lunch or dinner before or after the show. Come in for the whole weekend to truly enjoy all that this area has to offer or to simply revel in some rest and relaxation. Book online today and contact us anytime for further information.