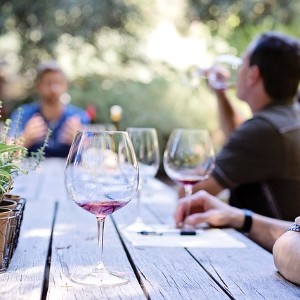 Take a deep breath…relax…stop and smell the roses…Isn't that what summer nights are all about? On top of family cookouts, beach parties, and evening walks and holiday gatherings, what about a trip to the Hudson Valley? A getaway might be just what you need to make this summer one for the memory books. We love sharing on this blog all of the big and little events and activities and things to do near our bed and breakfast. There is a fantastic winery not too far away that hosts a Summer Sunset Concert Series – check out the details below!
The Christopher Jacobs Winery, located at Pennings Vineyards in Pine Busch, NY, is seasonally open from June to October every year. The vineyard is young with the first set of grape plants planted in 2006. They have a rich family heritage and a strong passion for wine and have quickly put a stake in the ground as one of the best vineyards in the Hudson River region. The setting of this winery is beautiful and the atmosphere is relaxing and restful. It's a superb spot to visit for a sample of local wine and an afternoon of "chilling out." Special events also set this winery apart, like their popular Summer Sunset Concert Series. On Friday nights through July and August the Summer Sunsets and Live Music Series will take place from 5pm to 8:30pm. Food vendors will also be on site every Friday night. You can see the full summer lineup on their website.
Did you know that when you book direct through our website you are guaranteed the best rate and the best customer service? Book your next Hudson Valley getaway today and visit us online to see our current specials!