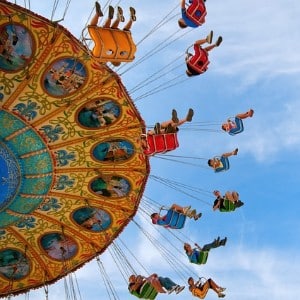 It's all about making the most of every last drop summer has to offer! There is plenty of sunshine and fun to enjoy while the summer days are still with us: take a day trip, visit a fair or festival, go to a drive-in, and enjoy the scenic beauty all around. While the list is long, here are just five things to do in the Hudson Valley this summer.
Dutchess County Fair – Come and see the second largest county fair in New York State for yourself! This fair is THE showplace for agriculture with over 144 acres for thousands of farm animals, exhibits and displays. Thousands come from far and wide for the carnival, free shows, and attractions. August 20, 2019 – August 25, 2019 at the Dutchess County Fairgrounds.
First Friday Poughkeepsie – This monthly food, art, and music festival takes place every month in Poughkeepsie showcasing everything this local city has to offer. The next festival is September 6, 2019 from 5-8:30pm on Main Street.
Hudson Valley Wine & Food Fest – This festival is the ultimate celebration of the food and wine that comes out of New York and will feature hundreds of wines from Hudson Valley wineries and beyond as well as craft beers and gourmet specialty foods. Visitors will be able to take in educational seminars, cooking demonstrations, and enjoy delicious food from the Gourmet Food Truck Corral. It's all happening September 7-9, 2019 at the Dutchess County Fairgrounds.
Sunsets & Star Gazing – There are several superb places in the Hudson Valley to catch a sunset or do some stargazing. A pretty area near our B&B is Kowawese Unique Area at Plum Point in New Windsor. You will love the long sandy shoreline offering views of the Hudson Gorge. You can also enjoy an easy hike is on the Outer Gooley Take-Out Trail, which is only a 0.1-mile trek to the south end of the water. Another spot is Minnewaska State Park. There are two parking spots near the top on State Route 59 offering great lookout points.
Movies at the Drive-In – Take a trip down memory lane and watch a movie under the stars in the comfort of your car at the Warwick Drive-In Theater. Offering three screens, you can take your pick from six first-run movies each night. Whether you drive in for a night of family fun, a hangout with friends, or a romantic date, this is a great summer evening activity!
Come and make some memories with an end-of-summer vacation to the Hudson Valley. Our bed and breakfast in Salisbury Mills is conveniently located near many fun things to do, yet is still tucked away for a relaxing and private getaway. Book direct today or contact us anytime for more information.