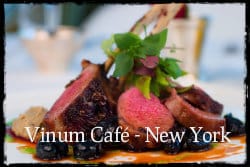 We are so blessed to have many absolutely amazing restaurants near our bed and breakfast. Our guests often ask where they should go or what our favorite spots are and every once in awhile we like to highlight a special Hudson Valley Restaurant. Taking center stage today is the Vinum Café in Washingtonville, NY—only five minutes away from our inn.
The Vinum Café is actually located in the ground floor of the Brotherhood Winery; a historic winery building built around 1839. The award-winning chef has earned some of the highest recognition in the Hudson Valley. There are two separate dining options for guests. The first is the Copper Room, an elegant restaurant that serves the finest continental French Cuisine. Large, international wine list and hand crafted martinis. Some of the exquisite dishes served here include Lobster Bisque, Snails Burgundy Style, Prince Edward Island Mussels, Jail Island Salmon Fillet, and Kobe Burger Rossini.
If you are looking for a more casual dining experience, we suggest trying the Vinum Café. The café dining room is near the bar area and while a bit more casual, still offers a great variety superb menu choices. Open from noon to 9pm, you can go in for a cappuccino and dessert or a crab cake, cheese, or charcuterie platter. They have some delicious appetizer and main dish options and of course wonderful desserts such as the Apple Tart Tatin and Crème Brûlée.
Every Wednesday to Sunday from 5pm to 7pm, the Vinum Café hosts Cheese & Wine Happy Hour in their wine bar and piano lounge. You can also make a reservation for the Prime Rib Special on Fridays or Sundays and Sunday Brunch on the patio, which is served from noon to 4pm. It is the perfect spot for an end of the day get together with co-workers or a starting point for a romantic date night out. Enjoy delicious homemade baked bread, wines from around the world, and hip drinks.
Just a few minutes away from our bed and breakfast, this café is the perfect spot to grab food, a snack or evening drink before enjoying a luxurious, relaxing night of sleep. Book a memorable fall getaway today or contact us for further information.