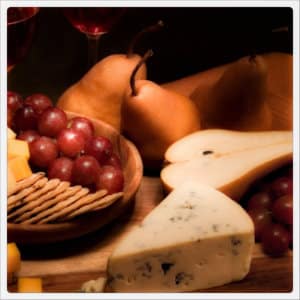 Just a short drive to Beacon, NY from our bed and breakfast in Salisbury Mills, you will find a charming and unique shop called The Beacon Pantry Market and Café. This quaint spot combines a restaurant with a small market and makes you feel like you stepped into a little corner shop in Paris. We love to tell our guests about unique places to visit during their time in the Hudson Valley and this one is worth checking out.
To start, the Beacon Pantry Market offers a huge selection of European items as well as many local and domestic specialty items. In the meat and charcuterie section you can find Spanish Chorizo, Prosciutto di Parma, Serrano Ham, and Hudson Valley Harvest Local Grass-Fed Beef and Pork. They also have fresh fish that arrives every Thursday.
Second, their cheeses department is overflowing with all kinds of choices such as Maple Brook Farms Fresh Mozzarella, Cabot Clothbound Cheddar, Pecorino with Truffles, and Rogue Creamery Oregon Blue. They offer fresh daily breads and pastries from Cafe Le Perche and a rotating selection of desserts and baked goods. You will also find a wide variety of special items in the France and Italy pantries.
If that wasn't enough, you still have the wonderful restaurant to try! With breakfast, salads, soups, sandwiches, and cheese and charcuterie boards, this place is just fantastic for a delicious lunch. The atmosphere is delightful and the staff and owner Stacy are friendly and knowledgeable. You will love all of the specialty goods and if you are a foodie, your creativity will burst just thinking about all that you can make with the ingredients in the market. They offers so many items you just don't see every day so it's a perfect place to pick up a gift for a fellow chef or items for your next dinner party. Try it out and let us know what you think!