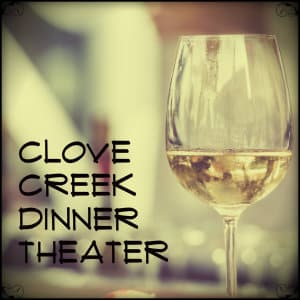 With so many fun things to see and do in the Hudson Valley, do you ever have trouble picking just one place to visit? We love helping our guests find things to do that are tailored to their interests. Whether you love the arts, the outdoors, shopping, or eating good food we can steer you in the right direction! We've got some fantastic restaurants that we love to frequent ourselves nearby but to take things up a notch, we've got something fun to tell you about today: the Clove Creek Dinner Theater!
If you have never tried a dinner theater before, it is a great experience and truly a fun evening out especially with a group of friends. The Clove Creek Dinner Theater is just 30 minutes away in Fishkill, NY and a hidden little gem in the area. If you are looking for something fun to do that supports a local business, this is a great choice. Each show features a different menu and you have your choice of one of 4 entrées when you purchase your ticket—we have heard the prime rib option is delicious. You'll find the staff was very pleasant and friendly—there to serve you and make your night memorable and enjoyable. Most tables seat 4-8 people so big enough to bring a group or if coming with a dining companion, you'll have a chance to meet some new friends!
The shows are done very well and the actors and actresses really do a great job. Overall, the food, the pleasant atmosphere, the service, and the quality of the performance are well worth the price for a nice evening out. You can find ticket pricing and other general information about the dinner theater here.
We would love to help you plan the perfect Hudson Valley vacation—whether you are looking for a romantic weekend away or just an overnight mid-week escape. Book online today or contact us for further details.