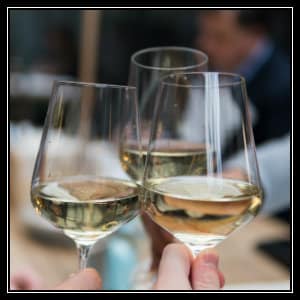 Have you ever been to the Hudson Valley? It is a region that stretches along the Hudson River from Westchester County to Albany. It's known for its amazing scenery and lush landscapes, which provide the foundation for the many orchards, farms and vineyards in the area. Our historic region is home to many amazing award-winning wineries and we want to highlight one in particular today called Magnanini Farm Winery.
The Magnanini Winery, located in Wallkill, NY, is also home to a restaurant and distillery. This beautiful place is just over 20 minutes away from our bed and breakfast in Salisbury Mills. Everything that you will find at Magnanini has a personal touch. The patriarch of the family, Galba Magnanini, worked in vineyards in Italy before the family opened this winery in 1983. His son Richard is a self-taught winemaker, having learned everything from his father. Just two years after starting the winery, they launched their European-style restaurant, which is open on Saturdays and Sundays. They offer wonderful six-course, Northern Italian-style dinners that are also served family style. There is limited seating and reservations fill up quickly so you'll want to check in ahead for one of these dinners. A dinner reservation gives guests one complimentary wine tasting during the hour prior to dinner.
The vineyard and restaurant are only open on weekends. Wine tastings at the vineyard are Saturdays from 6-7pm and Sundays from 12-1pm. The dinners are served right after each tasting session. They have eight unique wines – reds and whites that each showcase different fruit flavors. The Mertillo, a blend of Seyval Blanc and cranberry juice, and the Rosso Da Tavola, a blend of Dechaunac and Vincent with red berry aromas, are two favorites for the holiday season. Enjoy an evening out at this gorgeous winery or just make a stop to pick up a bottle for the wine aficionado in your family. There is a lot going on during the Christmas season – contact us today for help planning the perfect holiday vacation to the Hudson Valley.