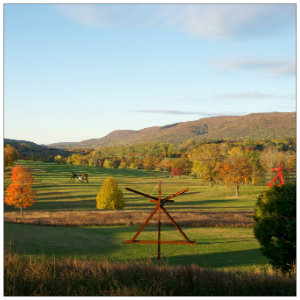 Warm winter wishes to you! We trust that wherever you are the New Year has gotten off to a great start. We are anticipating yet another amazing year as hosts of one of the top, award-winning bed and breakfasts here in the lower Hudson Valley. We literally have an abundance of things to do and see all around us, which is why we are starting 2018 off by doing some "Top Five" series for you. We have just started our top 5 attractions and today we are highlighting the Storm King Art Center.
Just 5 minutes down Orrs Mills Road from our bed and breakfast you'll find the incredible Storm King Art Center. We are so fortunate to have one of the nation's top art centers right in our backyard. Around here you may hear it referred to as simply, "Storm King." The name is due to the fact that it is located very close to Storm King Mountain. It is an impressive open-air museum known for its beautiful landscape of rolling hills dotted with large-scale outdoor sculptures. They will be focusing on the topic of climate change for 2018 and will have two new exhibitions opening May 19th: Indicators: Artists on Climate Change and Outlooks: Elaine Cameron-Weir.
For guests in New York City looking for a weekend escape, our bed and breakfast is the perfect choice for accommodations as we are just an hour away. A trip to us and to this outdoor sculpture park allows you to enter into a different world. This art center spans over 500 acres and features more than 100 sculptures scattered throughout the property. It is a stunning place to see, even if you may not consider yourself an art lover, we promise you'll be impressed. In the winter they are only open for select weekends; January 20-21, February 24-25, March 10-11. They will reopen for the 2018 season on April 4th.
If you have visited Storm King before, would you leave a comment with your thoughts? We'd love to be able to share with other guests what you enjoyed! We look forward to meeting new friends and guests and would love to host you for your next getaway. Book online today or contact us anytime for more information.