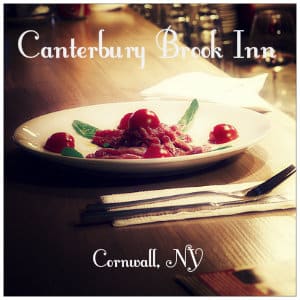 When you have a free night…open to do whatever you want, what is your first choice? Perhaps you are a popcorn and movie while relaxing on the couch type of person? Or, maybe you like to hit the town and find a party to join? If you are like us, we'll often choose a night at a favorite restaurant—relaxing with great food and friends. Just a couple of weeks ago we started our Top Five Local Restaurants series and today we are highlighting a nearby gem called the Canterbury Brook Inn.
The Canterbury Brook Inn, officially located in Cornwall, NY, is less than 10 minutes from our bed and breakfast. It's a favorite of ours and many of our guests and friends have thoroughly enjoyed their dining experience here. When you drive up, the outside is just so quaint and charming and then once you get inside, the atmosphere just makes you feel at home. You'll find a rustic setting with fireplaces—a warm and inviting restaurant that allows for a perfect place to celebrate any occasion or just a fun night out with friends.
Here, they offer fine Swiss continental cuisine. The menu is very attractive with a variety of appetizer and entrée options and fabulous desserts. Favorites here include the Hungarian Goulash, Filet Mignon, Classic Wienerschnitzel, and the Oven Baked French Onion Soup. There are multiple dining rooms, two with fireplaces, which are perfect for the cooler weather, as well as an outdoor terrace overlooking the picturesque Canterbury Brook. Great atmosphere, delicious cuisine with generous portions, and excellent service—it's a restaurant worth visiting during your stay.
You can find a list here of many of the attractions and activities to enjoy near our bed and breakfast. Whether you are looking for adventure or total relaxation, we can make it happen! Book online today or contact us anytime for help in planning your next vacation to the Hudson Valley.