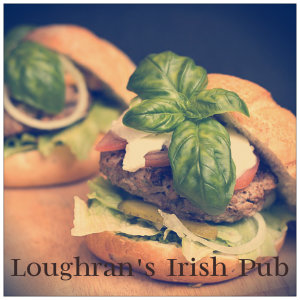 "Where Everybody Knows Your Name" is the theme song from the 1980s television sitcom Cheers. Do you remember that show? It was great! If you watched it you'll remember it was centered on a great local bar where friends met up with friends and where everyone was welcome. We have a similar place just a hop, skip, and a jump from our bed and breakfast called Loughrans' Irish Pub. It is, literally, next door to the Inn and an easy walk to and from.
While they may not know your name when you walk in, Loughran's Irish Pub is that type of place where you immediately feel welcomed and relaxed. We've had so many guests take us up on our recommendation to go check it out and not one has returned unsatisfied. It's a long running pub/restaurant that serves hearty comfort food, along with a full restaurant menu, and they have a great beer selection with over 50 ice-cold brews to choose from. Whether you are looking for a great salad, fish and chips, prime rib or a burger, you'll find the menu appetizing and the portions more than enough! The Prime Rib, calamari and surf and turf options are favorites!
It's a great local place to enjoy a casual night out or to grab a quick late night snack after a show or night on the town. They offer weekly specials and support local musical artists with live music Wednesday through Saturday and Open Mic Nights every Wednesday. The food here is consistently great and the staff very friendly. It's just a down to earth, fun place to spend an evening, whether as a prelude to a memorable night out or as a nightcap before coming back to the B&B.
Haven't been our way before? Well come on over! We would love to share all that we enjoy here in the Hudson Valley and offer you a stay at our relaxing and elegant bed and breakfast. Contact us today or book directly online!