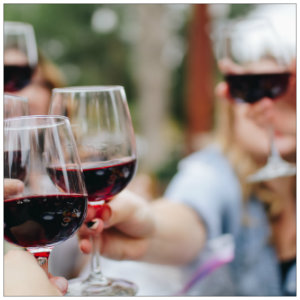 Someone once said, "The best wines are the ones we drink with friends." We've got an event nearby coming up in just a few weeks and we want you to gather up your favorite friends and plan a wonderful stay with us at our bed and breakfast here in Salisbury Mills, NY. The Hudson Valley Wine and Food Fest is happening September 8-9, 2018 and if you are a wine enthusiast, foodie, or both, we highly encourage you to come check it out!
The Hudson Valley Wine and Food Fest will be taking place at the Dutchess County Fairgrounds in Rhinebeck, NY. This venue is just over an hour away from us, and while we typically share about things a touch closer to home, this is such a huge and popular event, we didn't want to miss telling you about it. Many of our guests are wine aficionados and truly appreciate the bounty that can be found in the beautiful Hudson Valley area. The Shawangunk Wine Trail, just 60 miles north of NYC and nestled between the Hudson River and the Shawangunk Mountains, is in fact home to 15 different wineries. When it comes to amazing wine and food, there is lots to celebrate and that is what this festival is all about.
This Wine and Food Fest takes place annually and pays homage to the local wine and food found right here in the Hudson Valley. You will be able to sample and purchase hundreds of wines from area wineries, distilleries, and craft beer companies. Unique food trucks and concessions will be on hand as well as other vendors with specialty foods, fine art, home goods, crafts, and more. Regional celebrity chefs will be offering cooking demonstrations during which you can learn all sorts of culinary secrets. There will also be a variety of food and wine educational seminars and of course, no great festival is complete without fantastic live music. Festival hours are Saturday 11am-5pm and Sunday 11am-6pm and tickets can be purchased online.
Our B&B was recently named a top 25 Bed and Breakfast in the United States by BedandBreakfast.com, and member of the prestigious Select Registry and Diamond Collection of Inns. We would be honored to be your hosts for your next Hudson Valley getaway. There are still many sweet summer hours to take advantage of so book online today!