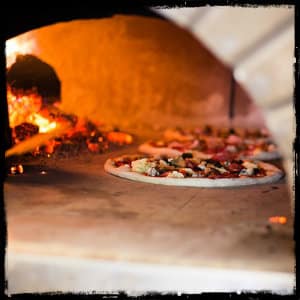 Handrafted…tradition…family farm to family table. Those are the words you might hear from someone describing a fantastic local restaurant here named Cosimo's. When you are away on vacation, a weekend getaway or just a midweek jaunt out of the city, a dining experience out is often a highlight. To say we are blessed with an abundance of award winning restaurants nearby is an understatement! Just minutes away we have guest favorites; Loughran's Irish Pub, Vinum Café and Blu Pointe. But, today we are speaking of a local hot spot called Cosimo's and if you love some amazing Italian food in a great atmosphere then you'll want to check this place out.
Cosimo's actually has four different restaurants around the Hudson Valley but nearest to us is their Newburgh location, which is just 15 minutes away. Restaurant founder, founder, Cosimo DiBrizzi, grew up in Salerno, Italy. He brings with him a passion for traditional Italian food, a dedication to farm-to-table practices, and only using the freshest and highest quality ingredients. Everything is homemade here from their handcrafted mozzarella and sauces to their cocktails and desserts. With the bounty of produce found in the local Hudson Valley farms, they are able to take their traditional family recipes and create amazing dishes that aren't found just anywhere. You are going to love their signature wood-fired brick oven pizzas and flatbreads, their pastas, and well…you can't lose with just about anything on their menu! They have completely remodeled their space and the waitstaff and service are top notch. If you try them out we would love to know what you think so we can share your experience with other guests.
Have you tried another local Hudson Valley restaurant that we should know about? Comment below—we love to know what our guest and friends are enjoying in the area. You can book a fall getaway directly online today or contact us anytime if we can help plan your next memorable stay with us!