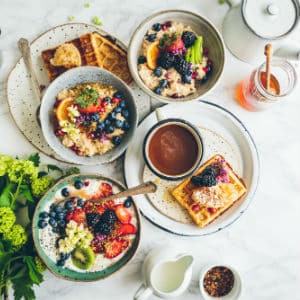 There is always something new going on in the food scene around here. The Hudson Valley, which stretches from Westchester to Albany along both banks of the Hudson River has claimed a spot as one of the nation's mecca's for amazing restaurants. From food festivals to food crawls to food tours and more, you'll find something to enjoy no matter the time of year. Our bed and breakfast, while tucked away in a quaint part of town, is close to so many dining options—it's a reason we have guests come every year! Nearby at the highly revered West Point Military Academy is the very popular Macarthur's Riverview Restaurant.
We wanted to highlight Macarthur's Riverview Restaurant because we know during this holiday season many of you are looking for extra special things to do. It's nice once in a while to treat yourself to something truly exquisite. Although, we'd be remiss to say that anything local around here, even the "dive down the street" is going to be fantastic! Macarthur's, however, is a step above the rest with an elegant atmosphere and award winning culinary masterpieces. Dining here will give you incredible views of the river and of the famed grounds of the academy. A highlight here is certainly the Sunday afternoon Champagne Brunch. During your next weekend stay, we highly encourage you to try this very popular brunch. Reservations are highly recommended and we'd be happy to do that for you.
The Sunday Champagne Brunch is perfect for a special occasion. The cost is $42.00 per person or $52.00 per person (Holiday pricing). For our guests, they offer a convenient afternoon seating time at 1:30pm so you don't have to miss out on the amazing breakfast provided by our very own Dena here at our bed and breakfast. They are also offering some extra holiday seating times as well at 2:00pm & 2:30pm. The brunch menu features live action cooking stations for waffles and Bananas Foster, shrimp, smoked salmon, salads, an amazing dessert station, and of course unlimited champagne, Mimosas and Bloody Mary's. It's truly a dining experience you will never forget!
Come enjoy an amazing holiday getaway to our bed and breakfast in Salisbury Mills. We can help you plan out your day from top to bottom or simply allow for a relaxing escape where you can unwind and recharge. Call us today for more information or book direct through our online reservations.