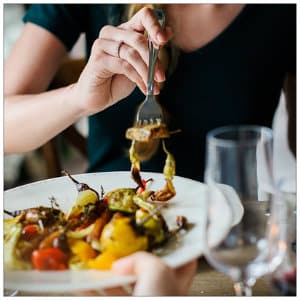 American chef, author and television personality, Julia Child, once said, "People who love to eat are always the best people." Isn't it so true that some of the best memories can be made with friends around a table or kitchen with great food? There is such a diverse and vibrant food scene in the Hudson Valley. You can probably find a style with every letter of the alphabet! We love supporting the unique and special local spots around our bed and breakfast and Soons Orchards is one spot that offers a great monthly farm to table dining experience.
These special farm to table dinners are now being offered on the second Friday of each month. There is still plenty of time to make it here for the March 8th dining experience! For this dinner, the Soons Orchards store is transformed into a special dining room where you will enjoy four delicious courses prepared by well-known and respected chef, Shawn Hubbell. Chef Hubbell will demonstrate each course, answer questions diners may have, and share exclusive tips on how you can improve your own cooking skills at home. It's not often one gets one-on-one, intimate access to a chef such as this, so it's a special night!
You may also get to interact with some of the farmers from the orchards and patriarch, Art Soons, will share a special behind the scenes update on the farm. The evening begins at 6:30pm with appetizers and cocktails at the Orchard Hill Cider Mill Tasting Room, which is right next door. Try a hard cider or peruse the selection of wines to pair with your dinner. The cost is $60 per person and since this dinner often sells out, you'll want to reserve your spot right after you book your stay at our bed and breakfast. Soons Orchards is only 30 minutes away from and a unique place to visit while in the Hudson Valley.
Have questions about our B&B or the area we call home? Browse through our website and call us anytime if we can help plan your next getaway to the Hudson Valley.