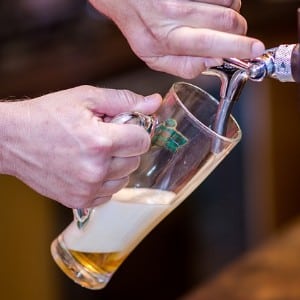 When it comes to planning an amazing trip, why re-invent the wheel when someone else has already done the leg work for you? If you are planning a vacation, chances are you will hop online and see what kind of treasure trove Google has for you. Well, today we wanted to share a treasure map of a different kind. If you have a love for the "craft beverage" world, we've got a great resource for you to check out. It is a Hudson Valley Wine and Craft Beverage Map and it is a goldmine of information so you know all of the wineries, distilleries, breweries, and cideries to hit before you get here!
Did you know that there are more than 100 fantastic wineries, breweries, and distilleries right here in the Hudson Valley? If you have been thinking about making a trip over to take a tour, try a tasting, and simply experience some of the beauty of the Hudson Valley, now is the time! Well, it's always a good time to come and stay at our bed and breakfast but with the beauty of spring all around, the weather warming up, and events happening everywhere, we would love to see you!
Now, this map we are talking about is called the Hudson Valley Wine and Craft Beverage Map and if you click on the link you'll be taken to a page with a wealth of information and listings of ALL of the craft beverage spots in the upper and lower Hudson Valley. We are located in the Lower region, in Orange County, so we encourage our guests to scroll down to those listings. You'll see the business names, addresses, phone numbers and websites – a one-stop-shop type of resource! You can download the map as a PDF as well to take along with you. Before you go, stop and have a chat with us as we can point you to some of our favorites as well.
Book your next spring vacation, getaway, overnighter, retreat…whatever you need today! Booking direct through our website guarantees the best rates and the best service. Also, contact us anytime if you have questions about our bed and breakfast or the gorgeous area we call home.