The Caldwell House Landscaping Project
The Beginning
S
pring has sprung early this year so we have decided to take advantage of it and get off to a fast start with our Landscaping Project.
Step 1 was to remove several large trees from around the property (don't worry, there are plenty more of them still here!) We focused on the ones that were damaged by Hurricane Irene/the October Snow Storm, and those that were inhibiting sunlight from getting through to the front lawn and certain gardens. A special thanks to John Flanagan and all the guys at Flanagan's Tree Services for the great work they did for us!
N
ext, and
the funnest part yet,
John rented a Bobcat machine and he bulldozed everything in sight.
There was only one – minor – mishap, that being when John backed up through one of the wooden fences (why are there no rear view mirrors on those things??!!) Anyway, we were able to clear lots (and I mean lots!!) of area around the house next to the B and B and a good portion of the deep back part of the
B and B
grounds. After 2 days of clearing the "back forty", it was time to return the 'Cat. Dena swears she saw a tear in John's eye when the rental company came to pick the Bobcat up.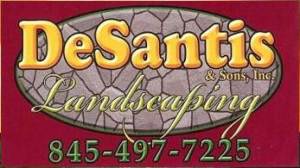 T
oday we begin a major part of the upgrade. We have hired Chris DeSantis and his crew at DeSantis Landscaping

http://www.desantislandscaping.com/

to do the "big stuff." Starting in the front yard, they will be tearing up the existing lawn, power raking it, leveling it, adding topsoil, lime, and fertilizer to it, and then hydro seeding it with top notch seed. Believe it or not, I already have the "after" pictures….
You may think it looks like Augusta but that is just because you have been seeing a lot of commercials for the upcoming Masters Golf Tournament.
Along with the lawn, we will be replacing (actually transplanting) a bunch of the bushes we have in front with Azaleas and Boxwoods.