The Caldwell House Landscaping Project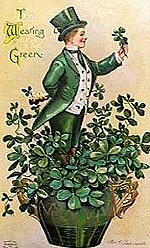 When law can stop the blades of grass from growin' as they grow,
An' when the leaves in summer time their color dare not show,

Then I will change the color, too, I wear in my caubeen;
But till that day, please God, I'll stick to the Wearin' o' the Green.
~Author Unknown
Well, Chris DeSantis and his crew from DeSantis Landscaping
have pulled up stake and left the day to day work to me. To prepare myself for the new tasks at hand, a quick trip to the nearest John Deere Tractor
dealership was in order! All that can be said is, my transformation to "gentleman farmer" has taken a huge leap forward!!!
With all the attachments that come along with it, we will be ready to attack nearly any project.
Getting back to the work that has been done, here's an update…..
The New Walkway
With our plans to eventually build up and landscape the land across the street from the BnB taking on a bit more form, one important step was to create a link between the two properties. We thought it best to develop a walkway that would connect the two and here is what has resulted……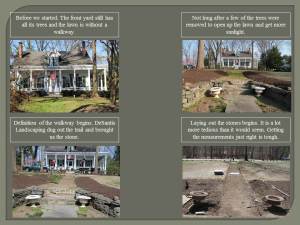 Neither Chris nor I harbored any allusions regarding who was in charge of the designing of the walkway – DENA! Chris and I were overruled on numerous occasions when it came to various suggestions. Like all good men, we decided to simply shut up and do as we were told!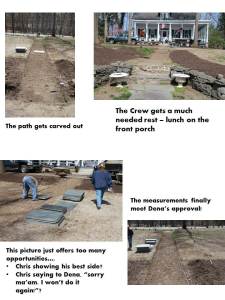 And, finally, the finished product….