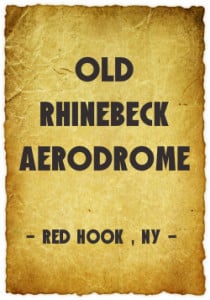 Marcus Garvey was a political leader and civil rights activist from Jamaica who once said, "A people without the knowledge of their past history, origin, and culture is like a tree without roots." Keeping history alive is crucial, particularly the times when our nations were at war–the generation of men who fought for our freedom is slowly passing on. One special place where history is alive is the Old Rhinebeck Aerodrome in Red Hook, NY. If you are a history or airplane buff, this is one stop you need to make this summer.
The Old Rhinebeck Aerodrome is a delightful museum of antique aviation. As a proud nation, we all have a deep respect those WW1 fighters and the aerodrome literally takes you on a time machine trip back to that time period. Get a unique experience of seeing some extremely rare, and old planes actually flying! It is an experience no aviation enthusiast should pass up. The aerodrome boasts one of the largest collections of early aeroplanes in the world all the while maintaining the charm of a small town attraction.
The museum is open to the public seven days a wee from June to October and the most popular event to attend are their weekend shows. The Saturday show honors the history of flight with several planes taking to the skies and the Sunday show entertains with a WW1 dogfight and other aerial demonstrations. There is a fantastic little museum with several interesting displays, automobiles, motorcycles, and memorabilia from 1900-1939.
If you feel daring and up for some adventure, don't pass up taking a thrilling air tour in one of their bi-planes. Imagine sweeping over the Hudson River in an open cockpit—it is a bucket list experience that you will not forget!
We are about an hour's drive from this fun museum and with some great shopping and dining along the way, this would make a perfect day trip during your time with us. With many incredible events going on in the Hudson Valley this summer, make sure to book your stay before we fill up! Book directly online or give us a call for further information.