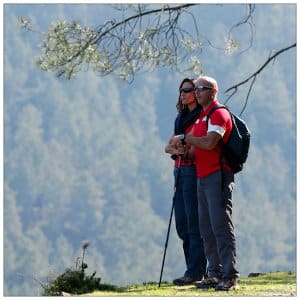 Well here we are for our final piece on Hiking in the Hudson Valley! It has been great learning about these amazing places near our bed and breakfast—just a short drive, some good shoes, and a willing spirit is all you need to take on some great hikes and see some of the best scenery in the area. You can read about the other hikes we have mentioned and we'd also love to know if you end up checking these out so be sure to comment so we can share your experiences with future guests who come to visit!
These next hikes are a mixed bag – ranging in difficulty and length but each worth trying if you love hiking and getting outdoors.
This is a very easy 1-mile loop that should only take you about an hour. On a beautiful summer evening with a nice sunset in the background, this would be an excellent spot to snap some photos. This hike will take you to a scenic beach and offer a cliff-top view of the Hudson River. From Beacon, you will want to head south on Route 9D and then about 6 miles down the road, past a tunnel, you'll see the parking area on your right.
The Schunemunk are literally just outside our doors and these trails are the closest to the Inn. This is a hike that you will want to plan around 4 hours for the 6.4-mile loop round trip. It is rated a 9 out of 10 for difficulty so be prepared for a challenge. You'll cross many different types of terrain—forests, meadows, open rock ridges, and boulder fields to name a few. There's an excellent pay off to accepting the challenge though as you will be rewarded with an awesome panoramic view of the Hudson Valley. Directions from the Caldwell House can be found by clicking this link for detailed instructions.
This hike takes you to a great Hudson River overlook. It is 2.6 miles up and back and you should plan on about 2.5 hours for the trek. It involves a pretty steep climb that feels like a 500 vertical foot staircase so hiking poles might be helpful. To get to the trail, head south on Route 9D from the village of Cold Spring. At about the 8-mile mark, look for the Appalachian Trail kiosk on the left side of the road, as that marks the start of the trail.
Remember to be safe friends—always wear appropriate clothing and shoes, bring adequate hydration, and tell someone where you are going, even if on a short hike. A day out hiking is a great way to spend a gorgeous day in the Hudson Valley and mix that with some shopping and dining at a local award-winning restaurant, we'd say you have a pretty fantastic weekend getaway ahead of you! Plan one today—book online or contact us for further information.
To read more hiking guides visit Hike the Hudson Valley, a website founded by hiking enthusiast Mike Todd, who set out to provide descriptions, ratings, and photographs of over 68 trails in the area in the hopes of getting others hooked on Hudson Valley hiking.
For guests staying with us and looking to head out on one of these great hikes, ask us about our Caldwell House hiking backpack. We can fill it with water, wine, cheese, sandwiches, and snacks. With just a quick advance call we can have it ready for you when you go for your hike!