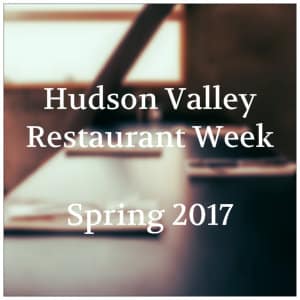 One of the most popular events for foodies near and far is back and right around the corner! Hudson Valley Restaurant Week is hands down one the most successful and enjoyable food events that happens every year and we have had many guests over the years not only speak highly of their experience but share of the many amazing restaurants near our bed and breakfast they discovered just by coming out for this weeklong event. It's coming up March 6-19, 2017 and we would love to have you come for a stay with us during that time. Keep reading for more details!
The Spring 2017 Hudson Valley Restaurant Week promises to be a fantastic event full amazing food from the top restaurants in the area. Now in it's 11th year, this culinary event just keeps getting better and better—this spring over 200 restaurants in the mid and lower Hudson Valley have signed up to be involved. The Hudson Valley is known for it's diverse culture and our region produces some wonderfully varied cuisines that are also dedicated to showcasing the state's sustainable and seasonal products.
Throughout this restaurant week participating restaurants offer featured, prix fixe, three-course dinners and lunches. Dinner options will be $32.95 and lunch options will be $22.95. There are no special tickets, coupons or passes needed—simply check out the list of restaurants participating and call them directly to reserve a table or use online reservation options if available. Owners John and Dena would be happy to give you their personal suggestions on where might be a great place to dine near the bed and breakfast.
Turn your Hudson Valley Restaurant Week visit into a full adventure! It's a great time to explore the area – shopping, music, galleries, historic places, tours, museums, excursions, the great outdoors…you name it, we've got it! We'd be happy to help you plan a memorable vacation so call us today or you can go ahead and book directly online with one click!