Members' Event
Private Tour with Director and Curator, David R. Collens, and photographer, Jerry L. Thompson
Saturday, May 19, 3:00 pm
Enjoy Storm King at the height of the spring season! Join David R. Collens, Director and Curator, and photographer Jerry L. Thompson for a private tour that focuses on the questions and complexities of siting outdoor sculpture in the unique and ever-changing environment at Storm King.
Donor Members and above.
Beekeeper Tours
of Peter Coffin's Untitled (Bees Making Honey) (2012)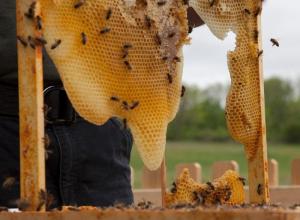 Saturdays at 12pm and 1pm
Storm King's beekeeper leads small tours of the beehives that are installed as part of artist Peter Coffin's project Untitled (Bees Making Honey)(2012). Participants will learn about the ways that honey bees make use of the sun's light, and will take away a sample of local honey. Space is limited on each tour.
Kite-Making and Flying Workshop
Sunday, May 20, 1:00 – 4:00 pm
Join Queens-based Free Style Arts Association for a creative and active afternoon of kite-making and kite-flying! Materials provided.
Family Tour with Wally McGuire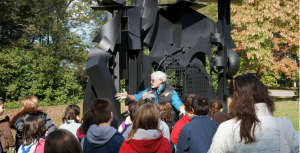 Sunday, May 27, 1:00 pm
Celebrated educator Wally McGuire introduces children (and adults) to Storm King's sculpture collection. McGuire's tours enable visitors of all ages to find personal connections to sculpture and introduces concepts such as representation, abstraction, and stylization.
Storm King is pleased to announce the World Monuments Fund's Inaugural H. Peter Stern Lecture
Monday, May 21, 6:30 pm
The Graduate Center CUNY, Harold M. Proshansky Auditorium
365 Fifth Avenue (at East 34th), New York City
To inaugurate the H. Peter Stern Lecture, Pico Iyer will deliver a special lecture for World Monuments Fund supporters, sharing insights about the wonder of travel and the responsibilities that accompany it.
For more information or to purchase tickets, please
click here
.