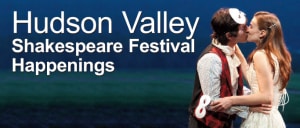 Carl Howell and Angela Janas, Romeo and Juliet
Photo by William Marsh
"Good night, good night! Parting is such sweet sorrow, that I shall say goodnight till it be morrow."
ONLY 11 PERFORMANCES LEFT!
Are you looking for more ways
to hang out with HVSF? Then check out our In Process series at The Depot Theatre!

A ghost story about Alexander the Great
A world-premiere reading of a new play by Matthew
Amendt, Minneapolis Ivey Award-winning playwright and HVSF alum(Hamlet, 2011). An opportunity to see a piece of theater that has never been presented to an audience before this moment! HVSF company members will read.
Directed by Ryan Quinn. Begins at 7:15pm.
August 26: Magic Moment
A play by the winner of last year's 10-Minute Play Festival
A reading by Mike Heintzman, directed by Tom Bloom. Magic Moment was selected as a semi-finalist at the O'Neil Playwright Conference. Begins at 7:15pm.
August 29: Cabaret Au Naturel
Featuring the winner of this year's 10-Minute Play Festival
HVSF company members
display hidden and not-so-hidden talents! Singing, dancing, and
performances indescribable along with the fully-produced winner of the
Ten-Minute Play Festival! Also features HVSF Apprentice stand-up. A
bawdy variety show with something for everyone!
Begins at 8:15pm.
Click below to order tickets for In Process online or call
The Depot Theatre at

(845) 424-3900.

The holidays will be here before you know it!
Make your plans early!
We're already booking for our reading of
A Christmas Carol
in the Boscobel Mansion. Space is limited and sells out quickly, so order today at
hvshakespeare.org
.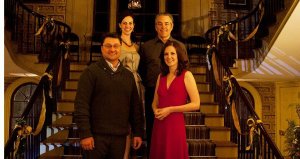 Katie Hartke, Stephen Paul Johnson, Eleanor Handley and Richard Ercole Photo by William Marsh
Our 2012 summer season is almost over! Get your tickets while you still can!