Today's guests are heading out to the "gunks" for some climbing. They are here from CA and say that this is the best climbing on the east coast!
A Breath of Invincibility: Rock Climbing in the Gunks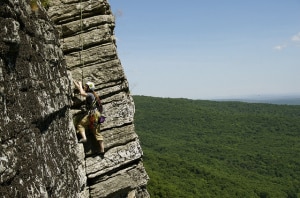 New Yorkers are always finding new creative ways to stay in shape when indoor workouts and morning routine jogs around Central Park become mundane. If you catch yourself getting a little distraught at someone for taking "your" treadmill out of the sea of machines available at the gym, it may be time to try a new approach to staying active. Instead of searching for the latest yoga and Tae Bo classes as an alternative, why not challenge yourself, breathe in some fresh mountain air and live life on the edge.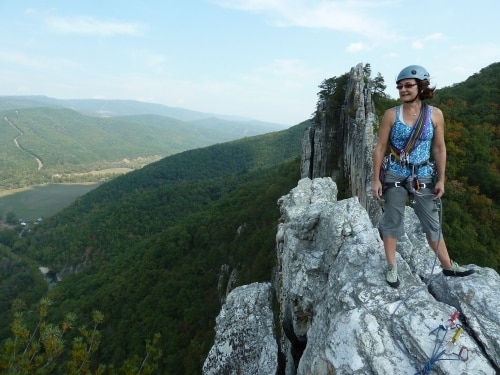 Alpine Endeavors is a hiking, climbing, and mountaineering guide service based in the New Paltz area, about an hour and a half outside of the city. The company offers rock climbing along the Mohonk Preserve and Minnewaska State Park from mid-March to mid-November and ice climbing daily during winter in the Catskills as well as the Adirondacks, and White Mountains of New Hampshire.
For those who have never been climbing before, the beginner's course teaches the basics such as knots, belaying, rappelling, climbing techniques, and of course, safety measures. There are half and full-day courses available which are tailored to fit your needs, so you will be guided through the level that you feel most comfortable with. All of the senior guides have been certified by the American Mountain Guides Association, which has been educating guides for over twenty-five years. If you find you have a knack for rock climbing, don't let the cold steer you away from the thrilling adventure of ice climbing.
If you are willing to wait for the ice to melt to get back out on the rocks, make sure to take some time to stroll through the free-spirited town of New Paltz. Walking around the village is an instant reminder that Woodstock is not far away, with shops sporting names like "EarthGoods" and "Art in Soul." Rock and Snow is the outdoors supply store where guests can meet up with their guides. If you need gear, let the store know you are climbing with Alpine Endeavors for 10% off your purchase. In the meantime, the staff of passionate rock climbers will answer any questions you may have about the sport—and what you are getting yourself into.
Alpine Endeavors does ask that you make reservations a week in advance, but it still beats waiting in line to use the elliptical machines at the gym.
How to get there: Contact Alpine Endeavors for specific directions to your ice climbing destination, be it the Catskills, Adirondacks, or the White Mountains. For rock climbing, take the Adirondack Trailways bus line out of New York Port Authority on 8th Ave and 42nd St. to New Paltz bus terminal. From the bus station in New Paltz, make a right and take a five-minute downhill walk to Rock and Snow, 44 Main St., on the left hand side. It's the building with a peace sign on the front door. Alpine Endeavors offers a variety of different hiking, mountaineering, and climbing trips in other locations including the nearby Catskills. Check out the website or call for pricing and more information. (Alpine Endeavors, 845.658.3094,)
Photos: Ian Mulvany