The Red Chair Makes Coast to Coast Journey
Move over Flat Stanley, the Red Chair is the newest travel icon
Salisbury Mills, NY (June 20,2013) –Where travelers once held photos of Flat Stanley in unusual places, photographers now shoot photos of a humble red chair. Long considered simply a place to rest one's buttocks, the lowly wooden chair has been elevated to celebrity status, and is being welcomed at inns and B&B throughout America. It is all part of a consciousness raising experiment among innkeepers, and between June 29 and July 1 the chair is making its way to Salisbury Mills and the Caldwell House Bed and Breakfast. Look for innkeepers John and Dena Finneran shooting images of the Red Chair at Brotherhood Winery, Storm King Arts Center, Woodbury common, and all about town as well as its nightly resting place – the Caldwell House.
Throughout 2012 and early 2013, the Red Chair developed a personality of its own being photographed by innkeepers in communities from one end of New England to the other. Starting in Cape Cod, the Red Chair journeyed throughout the six New England states on a nine-month tour. Follow the Red Chair's travels on
www.RedChairTravels.com

where inspiring photos of the Red Chair can be seen from beaches to bandstands. Throughout 2013 and early 2014 photos and stories from the Red Chair's journey to nearly twenty states will be added to the website as they are captured.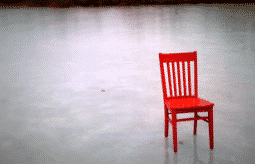 It all started in winter 2012 with a single image. Woods Hole Inninnkeeper Beth Colt posted a picture on Facebook of her simple red chair perched on the ice behind her house and watched her page light up with "likes." The picture was shared on the Facebook page of Julie Ann Cromer, a photographer from Santa Barbara, CA, who was inspired by the image to visit the Woods Hole Inn and took an amazing second photo of the chair on a local beach. This inspired Colt to share the chair with other innkeepers, sending it on a journey through towns and villages throughout Cape Cod last spring and then throughout the six New England states last fall and winter. As the chair inspired innkeepers all over New England, it has taken on a personality of its own.
"Now it's time for the chair to branch out," expressed Beth Colt. "Innkeepers across the country are clamoring to host the chair, so it's time to send it coast-to-coast in every corner of America the Beautiful. There would be no Red Chair without the generosity of innkeepers and B&Bs. It's a barn-raising of sorts; the sharing of a piece of Americana," concluded Colt.
Stories from the Red Chair's travels have been chronicled on blogs at each stop throughout its journey. Look for tales of the Red Chair's travels to the Caldwell House Bed and Breakfast on:
About The Caldwell House Bed and Breakfast:

The Caldwell House is a multi-award winning, Diamond Collection B&B located in the heart of the Hudson Valley – close to West Point, the Storm King Arts Center, Brotherhood Winery, and the Woodbury Common. Some of the area's most beautiful hiking/biking trails are within walking or easy driving distance. After an exciting day, one can lounge in front of a wood fire in the Parlor Room, sit on the front porch with a glass of wine while the Moodna Creek wanders its way downstream toward the Hudson River, or lounge in the huge backyard and simply star gaze.
Built in 1802, this historic home is full of many original features – wood plank flooring, high ceilings, and crown molding, a lovely wrap around porch, antiques, and original paintings. Each guest room includes its own private full bath (in some instances a Jacuzzi tub for 2), King/Queen sized beds with luxurious bedding, flat screen TVs with DVD/Cable/Internet access, individual room temperature controls, an iPad filled with information about local attractions, and much more.
Caldwell House Bed and Breakfast
Salisbury Mills, NY 12577