We're back! We have another great day to write about in our fantastic series on
A Day in the Life of a Caldwell House Guest
. We hope you have found some super ideas about the choices available for things to do, places to go and great food to eat around the Caldwell House in the Hudson Valley.
Our guests are treated like family and a gourmet three-course breakfast in the dining room made by the one and only Dena Finneran is the perfect way to start the day. Be sure to tell us should you have any dietary needs as we can accommodate that! Afterwards, a relaxing way to spend the morning is strolling the shops at the nearby Woodbury Commons. This hot spot has 220 outlet stores–a place where everyone in the family, no matter their taste, can find a store in which to get lost. Clothing, accessories, home goods, shoes, jewelry and more can be found at these designer stores. Plus there is a Haagen Dazs or New York Pretzel if you need a little sustenance to keep you going! Make sure to ask us about the Discount Book before you head there.
We have to mention grabbing lunch at
Desert Moon
, a fresh Mexican grille with a superb menu. Fresh ingredients and Southwest flavor makes it a great stop in the middle of the day. The Chili Rice Bowl is great for vegetarians, made with vegetarian chili with an option for tofu or for the meat lover you can add chicken, steak, or shrimp. They also have tacos, burritos, and quesadillas.
Once you have had your fill, take a relaxing cruise down the Hudson River on the
Pride of the Hudson
. There are two-hour narrated sightseeing cruises that give you a different vantage point as you cruise past Pollepel Island, Cold Spring, Storm King Mountain, Breakneck Mountain, and West Point. Afterwards, finish off the day with a stop at Gasho, a Hibachi steakhouse where masterfully skilled chefs slice and dice right in front of you. It is the perfect place for a special event or occasion—if it's your birthday they will sing to you and then bop you over the head with a mallet! It is all in good fun of course.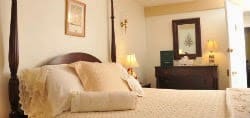 The cozy, relaxing atmosphere of the
Caldwell House
will draw you back home to kick up your feet and either sit by the fire, enjoy a glass of local wine on the front porch or retreat to your elegant room for a great night of rest and renewal—sounds like a perfect way to spend the day. Catch up on what you missed from our post on
Tuesday
and come back for what is coming up for Thursday in the Hudson Valley!