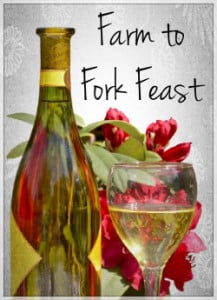 There are many things in life that are best when we wait for the perfect timing. Think about a soufflé coming out of the oven at just the right time, a wedding picture snapped at the perfect time during a sunset or capturing the exact moment a child takes a first step. We know about perfect timing—especially when it comes to when the produce in the Hudson Valley area is at its best. The season is truly at perfection by late June and to celebrate summer and the amazing local ingredients we have access to, we are having a Farm-to-Fork Country Feast and you do not want to miss it!
This exclusive event will take place Friday, June 26, 2015 right here at The Caldwell House and begin at 6pm with light hors d'oeuvres and cash bar. The main feast, catered by The Fresh Café, will be served from 7-10pm. It will be set up in our new "Great Room" with additional tables outside for those who desire to dine under the stars. Only the freshest of ingredients will be used from Jones Farm in Cornwall, Blooming Hill Farm in Blooming Grove, Gray Family Farm in New Windsor, Lowlands Farm in Warwick, Edgwick Farm in Cornwall, Brotherhood Winery in Washingtonville, and Palaia Vineyards in Highland Mills. Your dinner will include a five-course tasting menu and two glasses of local wine—Riesling from Brotherhood Winery and/or a wonderful Cabernet Franc from Palaia's.
To add to the ambiance of this special evening, our dinner will be complimented by some fantastic live music from The Parting Glass Band—a local musical group with Irish roots. The cost for this event is $150 per person. We would love to have you spend the entire weekend with us—enjoy the Farm-to-Fork evening and then spend the rest of your time enjoying all that the Hudson Valley has to offer this time of year. It will be great!