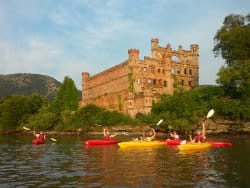 Can we paint a picture for you? Imagine a day where the sun is high but not too hot and you are standing before a body of water that is calm and inviting. The beauty of the Hudson Valley is all around and you can hear the chirping of birds and the quietness of nature inviting you in. Your kayak slips into the water with ease and with one stroke of your paddle you are on your way for serene, relaxing adventure. What do you say—are you ready to go kayaking in the Hudson Valley?
As local inn owners we may be a tad biased on the beauty of the Hudson Valley compared to other places around the country but there truly is a never-ending list of beautiful outdoor spaces and places to enjoy during the summer. Being out on the water brings a whole new viewpoint and there are several places to kayak in areas not far from the inn.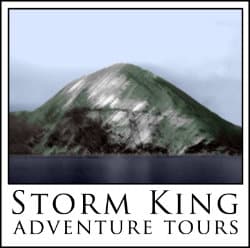 We would first like to highlight Storm King Adventure Tours in Cornwall-on-Hudson. They have some fantastic tours on the Hudson and their guides are friendly and knowledgeable about the area. Their three hour Bannerman's Castle Tour is particularly fun but you will also enjoy the Moodna Marsh, Hidden Cove, Plum Point, and Sunset Tours. If you love gazing at the night skies you need to check out their new Constellation Tour! They also offer private lessons that include all of the equipment you will need.
Next, a quick half-hour drive to Cold Spring, NY will bring you to Constitution Marsh where you can drop your kayak in from the boat lunch across from the train station. A short paddle downriver and a pass under the railroad bridge will take you to the marsh—this is a nice, easy place for a beginner. Two other places great for a low-key easy paddle are the Great Vly in Greene County and Chodikee Lake just east of New Paltz. These are beautiful wetlands areas with lots of wildlife viewing opportunities.
If you are up for a bit more of a challenge, we suggest checking out Wappinger Creek in Dutchess County about 30 minutes from our inn. It has a few obstacles to navigate and water can be a bit uncertain so prepare to get wet. You can start at Cady Park in Pleasant Valley and paddle for about seven miles, ending at Greenvale Park.
These are just a few places to try—owners John and Dena can help you create a whole day trip complete with the best shopping and restaurants to try. They love helping guests make lasting memories in the Hudson Valley—don't let summer slip away without making the ultimate bed and breakfast getaway!