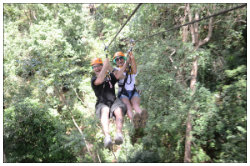 It's a bird! It's a plane! It's YOU! Are you looking for some summer fun, have an adventurous side, and would like to go soaring through the sky with the beautiful Hudson Valley all around you? If your answers are all yes then it is time you paid a visit to New York Zipline Canopy Tours at Hunter Mountain, NY.
This great adventure is a little over an hour away from our inn but well worth the scenic drive for a day full of fun. We can even help you pack a picnic lunch for the road or tell you of the best hotspots to grab a bite on your way. When you get there you will be able to choose from tours that go from "mild" to "wild." This is truly a family-friendly place where everyone, no matter where they fall on the daredevil scale, will find something to enjoy. The Mid-Mountain Tour brings 6 ziplines, 4 rope bridges, 9 tree platforms and a run rappel. It lasts approximately 3 hours and is great for the beginner.
The Skyrider Zipline Tour is the longest, fastest, and highest zipline tour in North America and 2nd largest in the world! Get ready for some high-flying action with this one. After a chair lift ride, you'll get to experience five side by side racing ziplines that could get you going up to 50 mph! This one is also around 3 hours long and definitely not for the faint of heart.
One of the other popular tours is their Night Zip Tour. For three hours you will be going through bridges, ziplines, and a 65-foot rappel all under the cloak of darkness. It takes stargazing to a whole new level. Visit their website for pricing, hours, and other amenities to be found. Grab your friends, book a private room at our bed and breakfast, and you have a weekend getaway you won't forget!