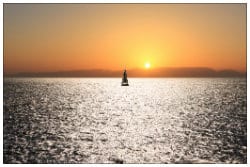 Summer is the season for relaxing and there may not be anything better than an escape out on the open water on a sailboat. The wind in your hair, the fresh breeze across the water, the serenity of the lake, and the gentle movements of the boat is an adventure you just have to experience if you haven't before. Whether it is your first time sailing or you are an avid sailor, the Tivoli Sailing Company of the Hudson Valley, NY is a top-notch boating company you need to try this summer.
The Tivoli Sailing Company, established in 2007, is run by captain Jerome Hollick, who started his passion for sailing at the age of eleven. His grandfather taught him, his father inspired him and he now has a very impressive naval pedigree. Hollick offers some fantastic tours, cruises, and charters so if you are looking for a few hours of relaxing out on the open water, try one these:
Historic Mansion Tour – Get a unique view of the Rokeby Estate, Rose Hill, Montgomery Place, Clemont, Callender House, and more on this interesting tour.
Bird Watching Tour – Bring your cameras and binoculars as you hunt for egrets, blade eagles, and great blue herons.
Fall Foliage Tour – For mid-September and October only you can take a relaxing tour and see the beautiful displays of color along the river.
Mid-Summer Moonlit Cruise – This is perfect for an anniversary or birthday outing and can be catered if you would like.
Champagne Sunset Cruise – This very popular cruise is the ultimate date night out for two. Enjoy sailing, music, champagne, and crab cakes.
There are also lessons available for the beginner to the advanced and you can choose from a quick refresher course or one of two complete packages. Visit their website for full pricing and scheduling information.
An excursion out on the water is the perfect way to spend a gorgeous summer day here in the Hudson Valley and the Tivoli Company is just a short drive away from our bed and breakfast. Book an incredible getaway today before the season is over!