We are only a few weeks away until the official Hudson Valley Garlic Festival weekend is underway! You might be questioning how one creates such a great event around just one small, aromatic bulb plant? Trust us, what started out as a small gathering in 1989 has now turned into a Hudson Valley highlight in Saugerties, NY that brings out over 40,000 visitors. This year you will want to mark your calendars for the weekend of September 26-27, 2015 because this festival is one you won't want to miss.
This garlic festival began when the owner of Shale Hill Farm and Herb Gardens created an event to boost business and promote New York State grown garlic. Every year the crowds got bigger and bigger and today, this two-day event is full of fun activities and huge crowds from all over. It is truly a celebration where garlic, or as garlic aficionados call "the stinking rose," takes center stage.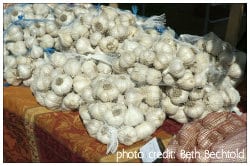 A favorite spot to hang out will be the Garlic Marketplace where you will find everything from garlic sauces, jams, and marmalades to garlic pasta sauces, pickles, and garlic and salted caramels. There will be a myriad of garlic farmers with varieties of garlic for sale that you didn't even know existed. There will also be a schedule of talented chefs and lecturers who will be there to offer workshops, demonstrations and educational presentations. Musicians and performers include Ian Flannigan, Sundad, Mark Rust, One World Puppetry & Performance Art, The Homegrown String Band, and Morris Dancers. There will of course be no shortage of delicious food and drinks available and a fun children's area for the young ones. Admission at the gate is $10 but you can save a few dollars by getting a ticket online for $7. Find all other information you may need on the event website.
Our bed and breakfast is under an hour away from the garlic festival, making our place the perfect home away from home during your time in the Hudson Valley. There is still plenty of time to get in a summer getaway with your family, loved one or group of friends so book your favorite room and make some memories before the fall season arrives!