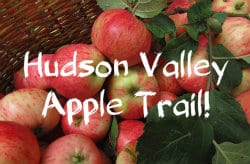 If you are planning a trip to the Hudson Valley this fall, you can expect to find beautiful views, a variety of local events and festivals and of course, endless opportunities for outdoor adventures. It is just a picture-perfect time to be here. The fall season in the valley is also the perfect time for fresh picked apples and we have compiled some great places to visit near our bed and breakfast so you can make your own apple trail!
The beauty of these places is many of them are open daily—we encourage you to escape the rat race in the middle of the week and enjoy some peace and relaxation as many places become more crowded on weekends. You can print this list before you head out and for each one we have also included the distance from our bed and breakfast in Salisbury Mills, NY.
The Apple Bin Farm Market – Ulster Park (45 minutes)
Apple Dave's Orchards and Distillery – Warwick (30 minutes)
Barton Orchards – Poughquag (42 minutes)
Hurds Family Farm – Modena (30 minutes)
Jenkins-Lueken Orchard – New Paltz (30 minutes)
Soons Orchard – New Hampton (30 minutes)
Apple Hill Farm – New Paltz (30 minutes)
Dressel Farms – New Paltz (30 minutes)
Wilklow Orchards – Highland (35 minutes)
Wrights Farm – Gardiner (30 minutes)
DuBois Farms – Highland (35 minutes)
MeadowBrook Farm Market – Wappingers Falls (35 minutes)
Don't miss out on seeing Mother Nature's brilliance as the fall colors come alive—our bed and breakfast is the Hudson Valley's most romantic getaway so book your room today!