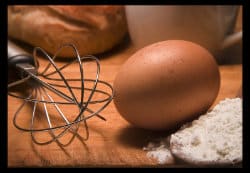 At our bed and breakfast in Salisbury Mills, NY, we make every effort to treat each and every guest like a member of our family. From the amenities in your room to the gourmet breakfast made from scratch every morning, we pay attention to every detail so that you have a comfortable and relaxing stay. Owner Dena is a master in the kitchen—whipping up gourmet dishes every morning for our guests. She makes everything from the heart, and uses favorite family recipes. One of her favorites is one called Rose's Sweet Potato Casserole. With Thanksgiving being this week, we thought it would be a perfect recipe to share.
When owners John and Dena's son went through cancer, Dena was part of a support group and Rose was a wonderful woman in that group—a "mom" if you will to all of those there needing encouragement. This is her recipe and it is one that is made by around 100 people every year at Thanksgiving. Enjoy!
Rose's Sweet Potato Casserole
4 c. mashed sweet potatoes, canned or fresh
1/2 c. milk
1/2 tsp salt
1 tsp vanilla
1/2 c sugar
1/3 c. melted butter or margarine
2 eggs, beaten
Mix all of the above together until smooth.  Put into a greased 10″ square or 9×13 pan.
Mix the topping:
1/2 c. brown sugar
3 Tbls melted butter or margarine
1/3 c flour
1 c chopped pecans
Combine until crumbly and sprinkle over potatoes.
Bake at 350 for 45 minutes.
From our kitchen to yours, we wish you a wonderful and blessed Thanksgiving!