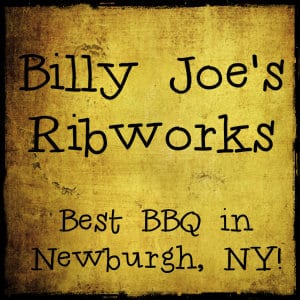 If top-notch food in a fun, casual atmosphere is what you look for in a great restaurant, we want you to know about Billy Joe's Ribworks in Newburgh, NY. This very popular restaurant just 15 minutes away from our bed and breakfast offers amazing views of the Hudson River while you dine and has hands down some of the best BB ribs in the area. Don't just take our word for it—this is a place you need to try during your next visit to the Hudson Valley.
The staff here is friendly and accommodating and every patron gets the special treatment they deserve. If you like a lively scene, this place really brings in the crowds on Friday and Saturday nights. Although the place can get quite busy on a weekend, the noise is never over the top and you can still enjoy a great night out. Reservations fill up quick so if you know you want to try this place out, we suggest reserving a spot several days in advance.
If you were to survey fans of this place you would probably hear that the ribs are hands down what you should go for. However, the wings come in a close second for many people as well. They are spiced, smoked and then dropped into a mouthwatering pot of amazing BBQ sauce before being served. Rounding out the list for top three favorites is the Porky Mac dish complete with Mac 'n Cheese, BBQ Pulled Pork, Crumbled Bacon and Scallions and topped with cheddar. It is simply delicious! The menu has something for everyone from salads to smoke house combos to sliders. If you are popping in for a quick drink and snack, the appetizer menu has a ton of great choices. You'll get large portions for reasonable prices and all in a casual, fun atmosphere.
This is a place you definitely want to keep in mind if you will be visiting late spring and summer when the weather heats up. They have an amazing outdoor dining area where you can watch the boats and jet skis go up and down the river and relax to live music.
We are the most romantic getaway in the Hudson Valley—check out all of our current specials and book special retreat today! Book online or contact us directly for further information.