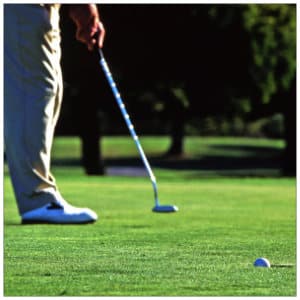 For some there is no better way to spend a gorgeous day in the Hudson Valley than out on a pristine golf course. If you fall into that camp and will be coming to the area this summer, we want you to give you some tips about where to go close to our bed and breakfast. The courses nearby are perfect for any level—whether you would label yourself as a pro or an amateur who just likes to enjoy a day outside with some friends.
First up is the golf course at West Point, which is just minutes away from our bed and breakfast. This course is just north of the Bear Mountain Bridge with a landscape of mountains in the background. The care and attention to this course makes you feel as though you are golfing on a high-end private course. This 18-hole course also offers instructional programs, a fantastic pro shop, daily tee times and happens to be recognized as a top ten military golf course. We know you will enjoy a great day at this one.
Next we encourage you to try The Golf Club at Mansion Ridge in Monroe, NY. This Jack Nicklaus Signature design course is only 15 minutes away and sits on a historic 220-acre estate at the foothills of the Catskill Mountains. It is a breathtaking setting for an unforgettable day of golf. They have dynamic pricing which means you get to choose the right rate at the right time on the right day that works best for you. They have a great dining spot, Migel's Tavern, which is open for breakfast, lunch and appetizers on a daily basis.
Last, but certainly not least, is the beautiful but quaint Green Ridge Golf Course, just a half-hour drive from us. This course has some historical charm as an 1880's farmhouse serves as the clubhouse. It is a quiet, country setting, with rolling hills mingled between the 18 holes. You can rent clubs, carts, and pull carts here and their rates are very affordable.
If you think you may be spending quite a bit of time on the green this season, you may want to check out purchasing the Hudson Valley Golf Pass. It is a book that costs $50 up front but can offer steep savings each time you make a tee time that it pays for itself quickly. In Orange County this pass offers discounts to Green Ridge, Mansion Ridge, Scott's Corners, and West Point. Click here for another great list of local golf courses near us that are very affordable and really good spots to sharpen your game.
Let us help you plan the perfect summer golf getaway—we can point you to our favorite hot spots and things to do in the Hudson Valley as well. Book online today or contact us for further information.