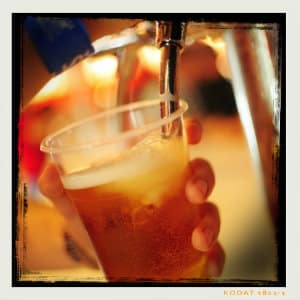 After a day of touring the Hudson Valley—perhaps Washington's Headquarters or DIA: Beacon, it's great to have a spot to go to relax and unwind. If you appreciate fantastic beer, delicious pub style food and views of the Hudson, a favorite here in the valley is a place called the Newburgh Brewing Company
Located in Newburgh, NY, this brewing company has really put their stake in the ground as one of the best local spots to find great beer and food in a pretty cool atmosphere. The huge loft space has been designed in such a way that invites people to mingle, relax, and have fun. It's a large, open space with lots of large tables with benches, corn hole, board games, and huge TV's to watch whatever game is on. At certain times you may find it is a bit noisy but that honestly just adds to the fun atmosphere.
They have a lot of different beer on tap—some that are there all year round and some that are seasonal options. They really pride themselves on tradition and using simple, honest flavors. Some of the favorites on tap include the Cream Ale, Brown Ale, Hop Drop Dipa, Megaboss Ipa, Spruce Mousse, Rhuby Soho, and The Hessian. Their menu is also filled with delicious food choices made with local ingredients and all made fresh in house. Popular items include Rosemary Garlic Fries, New York State Cheese Plate, Fish Tacos, House-Made Bratwurst, and the Gourmet Mac & Cheese. They will tell you the best brews to pair with whatever you order so you are sure to have a great dining experience.
Friends, the Hudson Valley is the perfect summer vacation destination! Whether you only have a day off or a week to getaway, we can help you plan the perfect New York retreat. Book online at our bed and breakfast today!