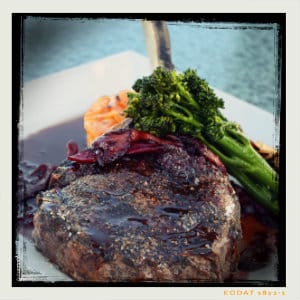 One of the reasons we love sending out these articles every week is because it connects old friends and future guests with all of the amazing things we love about the Hudson Valley. There is simply no way we could possibly cover every great restaurant, hot spot, outdoor adventure, shopping trip, museum, art gallery, theater, but we try to highlight our favorites at least. Sometimes it's the locals that truly know where to go and by owning a local bed and breakfast, we happen to have all the inside scoop. For steak lovers out there we highly encourage you to pay a visit to Schlesinger's Steak House in New Windsor, NY.
Located just a mere 15 minutes away, Schlesinger's Steak House is the perfect place to stop either on your way out for an evening or after a day of fun before coming back to the inn. If you can imagine a farmhouse-style décor that meets with a cozy elegance, you know exactly what to expect here. The ambiance is inviting and relaxing, making it perfect for a romantic dinner out or just a place to meet up with friends. The service is impeccable and the waiters are knowledgeable, friendly and know all about the options for cuts of meat to help decide what to order. The cuts of beef are truly out of this world—hand-cut, tender and bought and aged personally by the owner himself. The menu is extensive and every palate will find something delicious to try.
Another great thing about this restaurant is the adjacent cigar bar attached next door. It is a great, old school type of bar where you can relax and enjoy any of the top-notch cigars available. For those in the dining area who are not a fan of smoking, you can rest assured that there is no smell at all that travels over. Schlesinger's is open Sunday through Thursday from 4pm to 9pm and then Friday and Saturday from 4pm to 10pm. This restaurant is a local gem and a place we know you will enjoy!
If you have yet to make plans for the holiday break or for New Year's Eve, we would love to host you! We still have some room available and offer some amazing add-ons such as a personal massage therapist to make your getaway over the top. Book a memorable Hudson Valley getaway online today–you will not regret it!