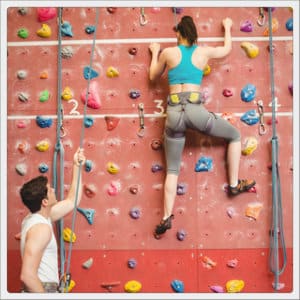 There are those dark and dreary winter days in the Hudson Valley—when the nasty weather is swirling and howling outside or it's just plain grey and gloomy. For guests staying at our charming bed and breakfast, the good news is there is plenty of room to hunker down and relax—enjoy a glass of wine or coffee by the fire or a game of checkers in the parlor. If you are the adventurous type though, what is there to do on a day like this? For those of you up to trying something fun we suggest checking out the indoor rock climbing at The Inner Wall in New Paltz, NY.
The Inner Wall is a fantastic indoor rock climbing facility just a little over a half-hour from our bed and breakfast in Salisbury Mills. It's a quick and easy drive and a great place to spend the afternoon for people of all ages and abilities. They have a nice variety of courses and welcome climbers of all ages and experience levels. They have used their 4500 square feet of wall space to create more than 100 climbing routes, with preset anchors, ropes and routes. There are several different climbing options to choose from including top rope climbing with a climber and belayer, bouldering without the use of ropes, auto-belay climbing, and lead climbing for the advanced climbers.
They offer private and group lessons if anyone should need some pointers and there are several different pricing options depending on your experience and the equipment needed. They are open Monday-Friday from 2pm-9pm, Saturday from 12pm-9pm and Sunday from 12pm-6pm. Their facilities are nice and clean and the staff is helpful and friendly. It's a great place for guests to enjoy some indoor fun and try something new!
If you are looking for more indoor or outdoor adventure ideas, we would be happy to help you plan an amazing Hudson Valley vacation. Book directly online or call us for more information.