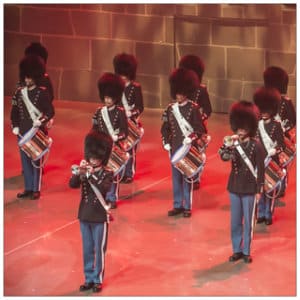 One of the sales tactics realtors often use when selling a house is to boast in its "location, location, location!" While our bed and breakfast in Salisbury Mills, NY is not for sale, we can make the same claim, as we are minutes away from awesome things to do and see in every direction. A very popular place to visit just 20 minutes away is West Point – the highly respected United States Military Academy. They've got fantastic sporting events to attend, a museum to visit and the special Eisenhower Hall Theater that brings in wonderful shows all year long. Coming up soon is one you simply must come and see—the Scottish International Tattoo.
Getting to see the Scottish International Tattoo in person is an experience like none other. It is a celebration of music and entertainment that will have you smiling and your toes tapping the whole time. It will be at the Eisenhower Hall Theater April 1, 2017 at 8pm. Staged in the tradition of the world-renowned Royal Edinburgh Military Tattoo in Scotland, this event will bring the best that the Scotch culture has to offer right here to the Hudson Valley. Players that come to this tattoo are international superstars, having won competitions and earned world championship titles. It is an evening of bagpipes, drummers, singers, dancers, musicians, and a whole lot of fun. It will be a night out for the whole family so bring your friends, your loved ones, or swing through for a romantic weekend out and enjoy this amazing musical extravaganza.
We would love to help you plan the perfect getaway—we have the inside scoop on the best places to eat, the top shops to hit, the hot night spots to check out, and the best ways to relax and unwind if you are looking for a total escape. Call us today or book your Hudson Valley vacation online today. We look forward to seeing you soon!